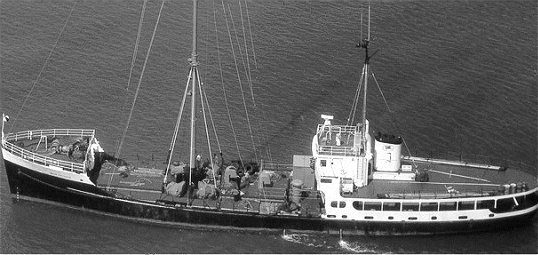 The twin stations, both operating from the same ship, were created by some of the Texan backers who had broken away from Radio London to form Pier-Vick Ltd. which consisted of Don Pierson, Bill Vick, general manager Jack Curtiss (grateful thanks to Jack for providing information corrections) and programme director Ron O'Quinn. The twin-studio ship was originally a World War II Liberty Ship named 'Olga Patricia' that had been refitted, renamed 'Laissez Faire' and was anchored three miles off the coast of Walton-on-The-Naze.

During World War II, 2711 of these ships were built in U.S. shipyards and saw action in the Atlantic, the Mediterranean, the Indian Ocean and the Pacific but were probably most remembered for their participation in the dreaded 'Russian convoys' through northern seas past Norway to the Russian port of Murmansk. Their lack of speed made them an easy U-boat target and about 200 were lost through enemy action. Their expected life span was a mere five years but, even so, such was the likely casualty rate that the Navy considered one safe voyage to be a ship's full quota.

During the early part of 1966 an audience survey was commissioned from National Opinion Polls Ltd. by Brian Scudder, the sales director of Radio Caroline. The company reported that during the period of the survey about 45% of the population listened to Luxembourg or offshore stations. The listening figures (as reported) were: Radio Luxembourg - 8,818,000, Radio Caroline - 8,818,000, Radio London - 8,140,000 Radio 390 - 2,633,000, Radio England - 2,274,000, Radio Scotland - 2,195,000, Britain Radio - 718,000 (In June 1967 National Opinion Polls published more figures showing that Radio 270 had an audience of 4.5million).

Radio England, initially on 355 metres 845kHz, changed to 227 metres 1320kHz after complaints of interference from Italy. At one point, the numbers 227 were clearly visible on the bows, but not in the image shown.