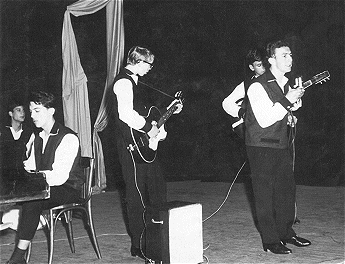 The Blackcollars - my first gig, May 1st 1963
Rudi Schmidt, Zoli, Moi, Charlie Brown, Gulyas. This town is the 'melting pot'
of the nation, lots of ethnic Germans, also Serbs and Croats - masters of
stringed instruments (like Gulyas, my classmate and first mentor).
Note the speaker! Song: "I'm All Shook Up"
At the time of the conversation on King Street I'd already had one little success in my bag of trophies, and a slowly-but-surely progressing career as a would-be rock starlet. In the spring, at the May One festivities, on the stage of one the two big girls' schools my first band, The Blackcollars, had a rousing-screaming success performing some mighty interesting stuff. The concert went like this. Two boys were majoring in the Leöwey Gimnazium's German Branch. (Gimnazium equals high school - not a sporting hall). Charlie Braun (seriously!) sang, quite well, and Rudi Schmidt (yes, they were of German ethnicities) played the drums. They asked my tutor, Joe (who was an ethnic Croat) to team up with me and Zoli on the piano to form a band for the May One gig. We did - under the condition that I would have an original in the program - no problem!

Charlie's big hit was "All Shook Up" (except that The King doesn't say it that way. He says: "Amonshooko"). And what do The Beatles sing in "Money"? The answer: "That's What I Want"? No. "Let's Woranvo". Check it out! Middle Earth English…) Charlie received a standing ovation. Then we played my first "original" (I'd had my guitar for seven months now). The masterpiece went like this: "Crying for your heart" - pra pam pa pam. In "C". Again, "crying for your heart" - pra pam pa pam. Change: "crying for your heart" - pra pam pa pam - in "F". Back to C and close the period G - F - C: " just cry-y-y-ying" and similar sophistications. But the beat was Merseybeat and the vocals something new, different, tantalising. Something that was never heard before and the young hearts in the auditorium were ready to pop. And cry. It was in the message.

I sang the lead along with the two harmonies into one mic and we had one amp called "Wirestack 10 watts" into which we plugged the two guitars. Zoli played the piano and sang into the air. Rudi's drumset was a low tom, a footpedal banging it from the bottom, the top was played as a snare, and there was a regular cymbal attached to it by an extension. We had no bass - the bass guitar had yet to be invented in Hungary!
The conclusion to this 'Hit Song' was such a rousing screaming applause that it took all of us by surprise. We didn't know what to do. But I took it as a clear direction as to which way to go, which is a great improvement compared to no direction, which was what I had before when I was still too young. By the autumn the band had grown stronger and we were playing gigs frequently. Little gigs, like the innocent school-class "Five O' Clock Teas", but also difficult and physically challenging ones - Saturday night weddings in the nearby villages. All-nighters, gruelling gigs. But they paid some money and we could buy amplifiers. Other 'Wirestacks' - 20 watts.

The guitar I got for my fifteenth birthday in October, 1962 (It was also my Christmas gift) was a save-the-salvageable solution from my parents, the only practical one. The bug started in me while in eighth grade. Music had begun bothering me, it caused me torture...
Nobody in the family had any formal musical background - though my mum sang quite beautifully, as I've found out later. I still don't know where my urge came from but an urge it was, and strong. I did sing in the school choir, never solo, but I sang. Despite that, I was an outspoken enemy of music-teaching.