Original Sixties Groups
and Solo Artists - Live!


Click on the image links to see their
websites and tour and gig dates
Anita Harris

Wayne Fontana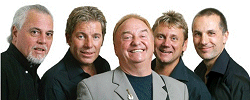 Gerry & The Pacemakers



The Hollies



Mike d'Abo / The Manfreds




The Tremeloes



The Swinging Blue Jeans



The Merseybeats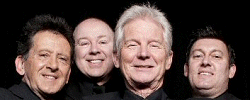 The Searchers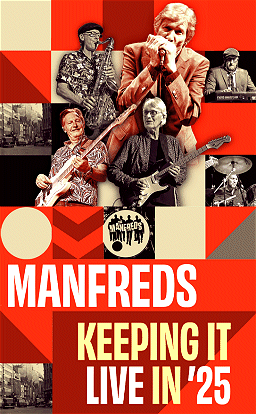 'Back In The Day'
Guided London Walks

One walk takes you around Soho
locations that played a big part in
the roots of the swinging 60s.
It'll take about 2 hours - and, if you're
of that era, the memories will come
flooding back of that time in your life.

Sixties City has been to several of these - highly recommended!
Walks include:
'Soho Vice' Tasty Tales From London's Red Light District,
'Soho On The Edges' From Tin Pan Alley To The Birth of Bohemia
'Peckham - Cafés, galleries & bars - but no fools or horses!

---

Let's Twist Again
This full company of critically acclaimed artistes and musicians returns for a show that combines amazing music, fun and laughter with the greatest hit's of ELVIS, DUSTY, LULU, THE BEATLES, SANDIE SHAW, THE DRIFTERS, FRANKIE VALLI, CILLA, GREASE, and much more. West End star, Suzi Madin performs alongside some of the best vocalists in the business and a stunning live band and the highest rated performers in the UK.
19th September 2018 Theatre 1
Buddy Holly: A Legend Reborn
Through 1957 to '59 one man changed the face of music and revolutionised the meaning of Rock 'N' Roll. That man was Buddy Holly. Clutching a Fender Stratocaster, sporting a pair of heavy-rimmed glasses, and sounding exactly like Buddy in his heyday, this all new production celebrates an artist who shot straight into the limelight as soon as That'll Be The Day hit the radio. Though his career was short, this man gave the world a stack of hits that will never be forgotten.
6th October 2018 Theatre 1
---
---

Crawdaddy! The third Friday of every month
The next event is Friday 21st September. Returning to Crawdaddy! is guest DJ Lisa Hurley who filled the floor with two cracking sets back in January. Lisa had a residency at the Griffin in Shoreditch, a do called Knights of Soul, and she ran a night at the Pleasure Unit in Bethnal Green with Lynn Davis. She has also DJed women's night at the 6ts all nighter at the 100 club. Crawdaddy is at The Fiddler's Elbow 1 Malden Road London NW5 3HS 9pm - 2am Entry £4. Crawdaddy! promo video . Just 5 minutes walk from Chalk Farm tube/Camden Market. Five minutes from Kentish Town West overground. Bus: No 24. For more Crawdaddy! events visit FaceBook or follow Crawdaddy! on Twitter at @BoogalooGaz
---
---


CAFE 1001
A monthly night of the finest selection of Ska, Soul and early Rock'n'Roll around with a great mix of all the best 50s and 60s music from original vinyl, from the Motown sounds of Detroit to Ska from Jamaica, New Orleans Rhythm and Blues and Rock'n'Roll.
Expect to hear artists such as Ray Charles, Four Tops, Skatalites, Chuck Berry, Ronettes, Beatles, Desmond Dekker, Aretha Franklin, Sam Cooke, James Brown, Supremes, Fats Domino and many more. It's free entry for the night in one of the trendiest parts of town.

LONDON SOUL CLUB
Soul of the 60s, London's finest Motown soul party takes over The Phoenix, 37 Cavendish Sq, W1G 0PP every 3rd Friday of the month to deliver belting sixties classics. Its £6 on the door….
but just £5 (+50p BF) in advance
---
---

The Congress Theatre and Winter Garden are temporarily closed
until Spring 2019

The Magic of Motown
Friday 28th September - Devonshire Park Theatre


---





Bye Bye Baby
Friday 14th September - Assembly Hall

That'll Be The Day
Saturday 22nd September - Pavilion Theatre

The Sensational 60s Experience
Saturday 20th October - Pavilion Theatre

Maximum Rhythm & Blues with The Manfreds
Wednesday 24th October - Assembly Hall

Various Concert and Event Information

VIP 24
Record fairs, CD fairs, Music fairs, whatever you call them - welcome to the world of VIP Events!

For three decades we have put record shops and record dealers from all over the world into big UK venues to sell to you - the serious music fan.

Holiday Rock
are the leading organisers in good time Rock'n'Roll and Modern Jive events, specialising in holidays and weekend breaks, both UK and abroad.
Membership to Holiday Rock is FREE
---

The Pirate Radio Originals


Sixties Stax, Pop, Atlantic & Motown

Every 1st Friday and 2nd Saturday in the month - 2100-0200 Free!

Junction 7, Canning Circus, Nottingham, UK

Every 1st Saturday in the month - 2230 - 0300 - £5/6 club entry

Rescue Rooms in the Red Room, Goldsmith Street, Nottingham, Telephone: 08713 100 000
---
---
Drag Racing at Santa Pod Raceway

Still as good as when Peter Crane's 'Stormbringer' crushed Don 'Big Daddy' Garlits' 'Swamp Rat' in the first sub-6 SQ outside of the US
- see his website for the full story! (we were there!!)

Santa Pod Raceway in the UK is the home of European Drag Racing and host to the televised FIA European Drag Racing Championships.
It's the fastest and loudest motorsport on earth with sensational race action from dragsters and doorslammers to beetles and bikes.

Santa Pod hosts over 50 events during the race season Jan-Nov, including: National drag race meetings, classic car events, modified car shows
(The Fast Show and USC), VW Beetle & Camper festivals (Bug Jam and Big Bang), Japanese performance car events (The JapShows),
specialist events (Performance Vauxhall Show, Classic Ford show), Run What Ya Brung (RWYB) public track days and much more!
---
---