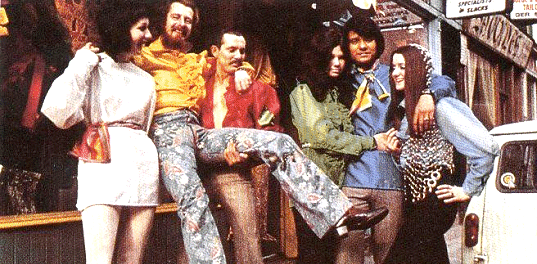 An image not uncommon on 'Sixties' pages is actually a '
Carnaby Cavern
' picture!
From left to right:
A girl from the French TV crew, the amazing Colin Wild, Hungarian Stevie (looks a bit of a villain - and was one! He worked for 'Rachman' as a 'heavy' before joining us and was a great team member), Beckie, John and Sherry (Sister Sally)
A Street Busker . . .

. . . came into the shop one day,wearing a filthy, oversized tartan jacket. We had, in the window at the time, a photo of a famous group wearing 'union jack' jackets. "I want a suit like theirs!" he demanded, and then a curt "How much"? "75 pounds" I replied, thinking to myself 'If this smelly creature gets any closer to me I'll be sick'.

Amazingly, he started producing notes, from a dozen pockets, each note having nothing apparently in common with any other, apart from being crumpled and dirty. Finally he amassed a pile of money on the counter totalling £75. When would it be ready? In just one week, I replied.

From a retail point of view he was a pleasure to serve, paying for the suit up front and collecting it a week later. That, I thought, was the end of it. A year on, I had taken my wife out to see the latest 'Clint Eastwood', had had a lovely meal at the Swiss Centre and we were strolling back towards our car, parked just off Leicester Square, when we came across a crowd of people watching some street entertainers.
I noticed that there were two middle-aged, balding men singing (shouting is probably a better description), in the company of a grubby little fox terrier whose only apparent accomplishment was the fact that it could walk on its hind legs.

Accompanied by an awful noise emanating from a portable 'Dansette' record player, they performed a routine possibly based on Wilson Kepple and Betty. I remember thinking that the men were rather dirty and what on Earth were they wearing?....... but it was already too late to escape! One of the men, wearing a red / grey / blue suit had spotted me and, stopping the routine in mid-stream, announced to the world "Ladies and gentlemen…… my tailor"!
Yes, it was the man from the shop who, from the look of it, had probably lived in the suit 24 hours a day for the entire year since he bought it!

The crowd turned, as one, to get a look at the man who made suits for tramps and a few even started to clap!! We made a very speedy exit - not the best end to what had previously been a very pleasant evening.