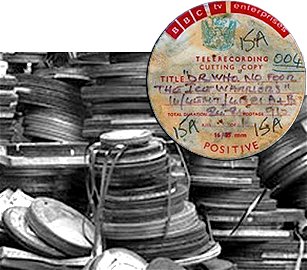 Prior to about 1978 many episodes of programmes, or even complete series, are missing from television archives as a result of destruction of unwanted film or a policy of 'wiping' expensive magnetic recording tapes for re-use. It wasn't just the BBC that was responsible for destroying large parts of their libraries although, as their archive was the largest, the damage there was more considerable. ABC, ATV, Granada, Southern and just about every television company in the UK disposed of thousands of hours of recordings, and television records of historical and social significance are now 'missing', probably never to be recovered.

Once recordings had been transmitted, or sold on, they were of little financial or practical use to the television companies, other than being of 'historical interest', as the use of 'repeats' was not welcomed either by actors or 'performing rights' unions who argued that any significant re-use would adversely affect the livelihoods of the various staff required to make new TV productions.

Although an agreement was eventually reached that allowed the broadcasting of a certain number of repeats a year, this had to be done within three years of the original showing or renegotiated on a 'case by case' basis. Some programmes and series, such as BBC's 'Maigret' and 'Sherlock Holmes', were also bound by individual contractual agreements to destroy any recordings after a certain date. The introduction of magnetic videotape in 1958 brought with it the huge advantage that it could be re-used. In the early 1960s the cost of a single tape was about £200, an expense that could be offset by its being re-used several times. However, the cost of producing a 35mm film negative and one print was about the same, so there was no real economic advantage in keeping programmes recorded on tape. 'Old' videotapes containing 405-line recordings were either scrapped or re-used for the new 625-line standard, therefore very few examples of 405-line recordings remain.

Copies of both ITV and BBC recordings were difficult to obtain as most were either single film prints or videotapes and the cost of copying them for other archives was just an additional expense and difficulty. If a programme was archived for posterity, film was considered to be more durable than videotape therefore the majority of archived programmes exist as film recordings with the higher quality 35mm being the common standard for storage. With no outlet or use for 'old shows', many of which were in monochrome, television companies were finding it difficult to justify the expense of storage by the end of the Sixties, particularly with the increasing demand for colour productions. Not only that, but they were also running out of space and so they made the decision to dispose of any films more than three years old that were not considered to be of value in 'historical' terms.