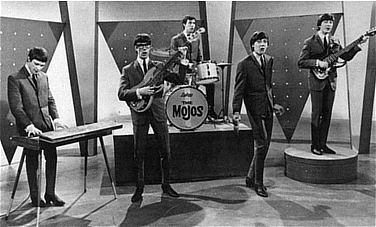 Drummer John Konrad (born Liverpool, 3rd October 1944) and bassist Keith Karlson (born Keith Alcock in Liverpool, 14th August 1944) formed a group called The Nomads with lead guitarist Roy Woods. However, Woods didn't fit in and he was replaced by Adrian Wilkinson in September 1962.

Stu Slater (born Stuart Leslie James Slater on 14th July 1945 in Liverpool), a student at Liverpool University, joined them as vocalist/pianist, changing his name to Stu James. He didn't think his original name was strong enough for a pop star and just reversed actor James Stewart's name. He recalled: "I was in the Sixth form at Liverpool Institute - post A-levels, waiting to go to University - but somehow I got involved with The Nomads instead. I came in as pianist, playing an ordinary upright until I could afford a Hohner, and then I started singing too. Our repertoire was powerful, hardline R & B...we were a sort of Liverpool Yardbirds."

At one time, Stu almost became a member of The Undertakers. He rehearsed with them for three days, but Geoff Nugent threatened to leave if the group employed Stu. As The Nomads they appeared with The Beatles at the Cavern on Sunday 3rd February 1963 and recorded on the 'This Is Mersey Beat' album.

When they discovered that a London group had registered the name The Nomads, they changed the band's name to The Mojos, due to Muddy Waters and the record 'I've Got My Mojo Working.' The band entered the Lancashire & Cheshire Beat Group Contest at the Philharmonic Hall in Liverpool and, although the group didn't win, they were awarded a songwriters contract with Carlin Music.

It was ironic that Carlin leased their tapes to Decca because The Escorts, the group who won the competition, failed to be given the promised Decca recording contract.