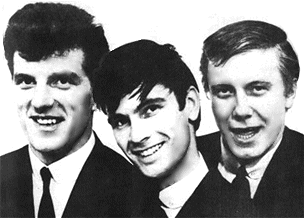 A Liverpool group who evolved from Cass and The Cassanovas, a four-piece band formed in the late 1950s and were, for a time, regarded as the top group on Merseyside. They even ran their own club, the Cassanova Club. The group was led by Brian Casser, who used the names Casey Valence and Casey Jones. He was a dynamic personality, adept at organisation.

They were a trio in 1959 comprising Casey Jones, Adrian Barber and Johnny Hutchinson, when Hutchinson brought Johnny Gustafson to see the group as they needed a bass guitarist. He was asked to join them, but couldn't play as he didn't actually own a guitar. Adrian converted a Hoyer Acoustic for him and put bass strings on it. On joining, he was commonly known as Johnny Bass, but later on was referred to as Johnny Gus.

Leader and rhythm guitarist Cass left for London at the end of 1960, missing out on the entire Mersey success scene, although it has been suggested that the others pushed him out. The three remaining members of the Cassanovas stayed together and in January 1961 emerged as The Big Three. They were the first Merseyside group to play Ray Charles numbers and had a raw edge to their sound.

Despite the fact that they were only a trio, they were one of the loudest bands on Merseyside, due to Adrian's electronic wizardry. He made giant amps, standing over five feet tall, which were nicknamed 'coffins.' They were in big demand and The Beatles and other groups asked Adrian to make 'coffins' for them.

The Big Three's reputation locally was very high and, after signing The Beatles, Brian Epstein wanted the group in his 'stable', signing them after initially trying them out on a shared bill with The Beatles in Southport, and he sent them over to Hamburg on 1st July 1962. The German club insisted on quartets so Epstein arranged for Brian Griffiths, one of the most acclaimed guitarists in Liverpool, to join them.