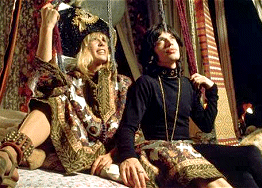 A highly unconventional film, directed by Donald Cammell and Nicolas Roeg and eventually released in 1970 after a two year delay, with music by Jack Nitzsche, Merry Clayton and the Merry Clayton Singers, Buffy Saint-Marie, The Last Poets, Randy Newman and Mick Jagger. James Fox portrays Chas Devlin, a thug who works for gangster boss Harry Flowers (Johnny Shannon). We first see his callous handiwork when he intimidates a barrister by pouring acid over a Rolls Royce and viciously shaving the head of the chauffeur.

Flowers is attempting to arrange a merger with Joey Maddocks (Anthony Valentine), a betting shop owner, but he keeps this knowledge away from Devlin as Devlin and Maddocks are personal enemies. Maddocks arrives with two henchmen, wrecks Devlin's flat and has him savagely beaten up, but Devlin overpowers him and shoots him, against Flowers' strict orders. As a result he is on the run from both the police and Flowers' gang.

He changes his appearance and poses as an out-of-work juggler, finally going to ground in a strange house in Notting Hill which is occupied by a bizarre ménage a trois: Turner (Mick Jagger), a rock star who has retired because he has lost the power to perform and two girls Pherber (Anita Pallenberg) and Lucy (Michele Breton).

Although Chas hates their life style he remains in hiding, gradually being seduced by the complex relationships and becoming attracted to the sensual Lucy. The trio discover that Chas is a gangster and they decide to get inside his mind by feeding him drugs in order to break down his identity.