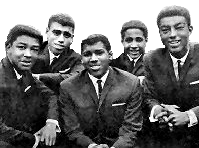 On that Cavern debut The Chants, backed by The Beatles, performed 'Duke Of Earl', 'A Thousand Stars', '16 Candles' and 'Come Go With Me' before an enraptured audience, their set lasting approximately 20 minutes. Local MP Bessie Braddock took an interest in the group as they were from her Liverpool district, the Exchange ward, and she arranged for them to be the only other Liverpool group present at The Beatles' civic reception at Liverpool Town Hall. Despite his initial frustration at the Beatles' agreeing to back The Chants against his wishes, Epstein took over the management of the group early in 1963, but only for a short time and without any formal contract signing.
The group found him ineffectual as a manager and he agreed to release them. They then signed with Manchester agent Ted Ross, who arranged a recording deal with Pye Records. However, they were later to consider they had committed "professional suicide" by signing with Ross, although they were grateful for what he tried to do for them.

On the special all-Beatles edition of the TV show 'Juke Box Jury', the first record played to them was The Chants' 'I Could Write A Book', which they voted a hit – but it became a miss despite their positive comments. The Chants debut disc, 'I Don't Care', flipside 'Come Go With Me', was released on 17th September 1963. Their second, 'I Could Write A Book', flipside 'A Thousand Stars', was released on 1st January 1964. Their third was 'She's Mine', flipside 'Then I'll Be Home' in June 1964, and their final release for Pye was 'Sweet Was The Wine', flipside 'One Star' on 11th September 1964.