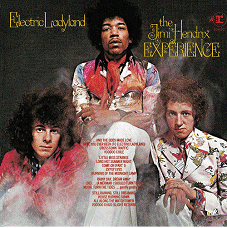 Jimi had wanted a photograph by Linda McCartney to grace the cover and, when the naked ladies image was used, Linda commented, "I think everybody thought it was his idea. We did get something in the American cover, which had an open-out cover. All the photographs inside were black and white, which I took. They showed him as a human being, rather than a freak, you know". The cover photograph of the Reprise album was by Karl Ferris.

Commenting on the mix for 'All Along The Watchtower' Tony Bonglovi, a Record Plant engineer said, "The song had begun on four-track, progressed to 12-track and finally 16-track. In the transfer process, the tape got lost and we ended up doing more than 15 different mixes. Hendrix would stop the tape, pick up his guitar, or the bass, and go back out and start re-overdubbing stuff. Recording these new ideas meant that he would have to erase something. In the weeks prior to the mixing, we had already recorded a number of overdubs, wiping track after track – and I don't mean once or twice – he would overdub the bass and guitar parts all over, until he was satisfied. He wouldn't say, 'I think I hear it a bit differently".

In May 1968 Chas decided to discontinue working as producer with Jimi, although he would continue as co-manager. He said. "We didn't fall out during the recording of 'Electric Ladyland', so much as the sessions seemed to fall apart out of apathy. In New York, during the recording,I was spending a lot of time trying to stop the intake of illegal substances. There were a lot of hangers-on turning up at the studio and any artist in that situation is inevitably going top start playing to the gallery instead of to the tape machine".

Jimi said, "Like 'House Burning Down' we made the guitar sound like it was on fire. It's constantly changing dimensions and, up on top, that lead guitar is cutting through everything". Noel Redding said "It got to the point in New York when I told him he was a stupid cu*t. He depended too much on himself as writer, producer and musician. He was always trying to do it his way. There were times when I used to go to a club between sessions, pull a chick, come back, and he was still tuning his guitar. Oh, hours it took. We should have worked as a team, but it didn't work".