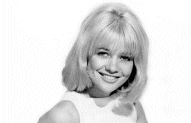 The actress was born Judith Amanda Geeson in Arundel, West Sussex, on 10th September 1948. The family, which included Judy's younger sister Sally, moved to London when Judy was ten. Although she had ambitions of becoming a ballet dancer, her dreams didn't come to fruition because she suffered severe headaches due to the various ballet moves, combined with the change of location to London.
However, she and Sally were enrolled at the Corona Academy in Chiswick and the sisters became focussed on a career as actors.

In 1955 she made her stage debut at the age of nine, and her television debut in 'Dixon of Dock Green' at the age of 12 while her film debut came in 1963 with 'Wings Of Mystery.' Other Sixties television appearances included: 'ITV Play Of the Week', 'The Wednesday Play', 'Cluff', 'The Newcomers', 'Danger Man', 'Mrs Thursday', 'Mr Rose', 'Man In A Suitcase', 'ITV Playhouse' and 'Happy Ever After'. It was her role as Maria Copper in 'The Newcomers' which first brought her to a wider audience when she appeared in the show for two years between 1965 – 1967 as the teenage daughter to a family who move from London to the countryside.