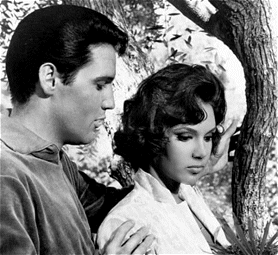 Elvis's 17th film was a 1965 MGM production, directed by Boris Segal, which opened nationally in America on 14th April 1965. The film was produced by Joe Pasternack who had already filmed 'Where The Girls Are', about the students annual spring break in Fort Lauderdale and wanted a similar setting for the Elvis movie. Working titles for the movie, written by Harvey Bullock and R.S. Allen, were 'The Only Way To Love' and 'Girl Crazy.'

Director Segal could see that Elvis was unhappy churning out lightweight musicals and took him aside to advise him to take time off from making film after film and go to New York to study at the Actor's Studio or Neighbourhood Playhouse. He said to Elvis, "Every actor studies his trade, even those as good as Marlon Brando." Elvis told him that he didn't have time, but added, "I'm looking forward to doing a picture where I can finally act and not just sing." Incidentally, Segal was killed in a helicopter crash in 1982 while working on the TV movie 'World War 3'.

Elvis starred as Rusty Wells who sings with his combo at a Chicago nightclub owned by Big Frank. Rusty and the band now feel they want to travel south for their spring break, but they've been such a big success at Frank's club that he won't let them go. When Frank's only daughter, Valerie, goes on Easter vacation, Rusty suggests that he and his group go down there to look after her, without her knowing. Frank agrees and they set off for Fort Lauderdale in Florida.

The combo begins a residency at a local club and Rusty is attracted to some of the girls, including Pamela Curran, Rusty Allen and Gail Gerber (left), but has to intervene when he notices Valerie is in the audience and is being pestered by a creep. Other boys subsequently take a shine to Valerie, who keeps getting into trouble.

When her father phones her and admits that Rusty has been sent to watch over her, she goes wild and ends up in a local jail. Rusty then tunnels into the jail to rescue her – but finds she's no longer there.
By this time Valerie and Rusty have fallen in love and when Big Frank arrives he is initially angry, until he reckons he can't fail to like a guy who would break into jail to save his daughter.