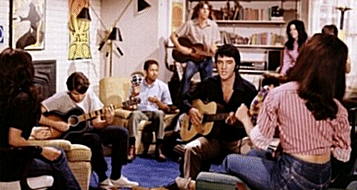 Next they go and visit Father Gibbons (Regis Toomey), but find that he has locked the church doors because of thefts to the church property. When they meet him he seems unappreciative of their mission. Speech therapist Michelle aids a troubled youth, Julio (Nefti Millet), who has a stammer, to speak better and also reveals that a little girl, Amanda (Lorena Kirk), who everyone thought was deaf is actually autistic.

Various other adventures ensue including the attempted rape of Sister Michelle by Julio, who ends up being given psychiatric help; an episode with the local loan shark's hoodlums who the Doctor manages to defeat, the loan shark's arrest and the decision by Sister Barbara to leave the church and become a political activist, together with various incidents when the novice nuns encounter inner city issues.

Dr John has fallen in love with Sister Michelle and she with him. At the end of the film she has to make a decision between the doctor and the church – but how she makes her mind up is left unresolved. As an Elvis film, it's interesting that it explores the problems of racism, drugs, inner city poverty, extortion, autism, rape with scenes of violence and some mild sweating.

With three novice nuns, church scenes and cameras zooming in on crucifixes, there is obviously a strong religious angle to this film, particularly as in the closing scenes where Sister Michelle is trying to make her decision, we see a close up of Elvis's face contrasted with that of Christ on the crucifix. Then we can see that Elvis goes to live among the poor and heals the sick, has wise words to say, drives the moneylenders away and literally performs a miracle when he cures an autistic child. Were the scriptwriters trying to make a point?