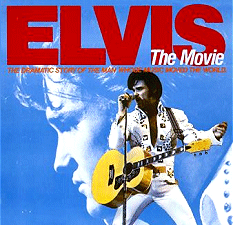 'Elvis' was a Dick Clark film which was originally screened in America on ABC TV on 11th February 1979 as a three-hour television movie. It was then issued as a theatrical feature in European cinemas, and is now often referred to as 'Elvis - the Movie.' The original television screening was 171 minutes in length, although various DVD versions have a variety of different lengths, most of them using the two-hour European theatrical version. It was directed by John Carpenter (Elvis played a character called John Carpenter in his last feature film 'A Change of Habit') with a screenplay by Anthony Lawrence, who had previously scripted three Elvis movies: 'Roustabout', 'Paradise, Hawaiian Style' and 'Easy Come, Easy Go'. Consultants to the film included Sam Phillips, Kathy Westmoreland, The Jordanaires, Marty Lacker and Billy Smith while Priscilla was paid $50,000 to check the script for its accuracy.

All the songs in the movie were sung by country singer Ronnie McDowell, who recorded 36 numbers for the film, although only 25 were used: 'Mystery Train', 'Good Rockin' Tonight', 'Old Shep', 'My Happiness', 'That's All Right (Mama)', 'Blue Moon of Kentucky', 'Lawdy Miss Clawdy', 'Blue Moon', 'Tutti Frutti', 'Long Tall Sally', 'Heartbreak Hotel', 'Rip It Up', 'Unchained Melody', '(Now And Then) There's A Fool Such As I', 'Crying in the Chapel', 'Pledging My Love', 'Until It's Time For You To Go', 'Bosom of Abraham', 'Suspicious Minds', 'Are You Lonesome Tonight', 'Sweet Caroline', 'Blue Suede Shoes', 'The Wonder of You', 'Burning Love' and 'An American Trilogy'.

The film opened with a scene of Elvis at the International Hotel on 26th July 1969, when he was due to return to touring with his Las Vegas comeback show, although there were hints of a death threat on opening night. As Elvis sits in the room his memory flashes back to Tupelo, Mississippi, in 1945. He recalls his early teenage years and rebellious youth at Humes High School and the love of his mother, a job as a $35 a week truck driver, his discovery by Sam Phillips of Sun Records, his rise to fame, his stint in the army, his marriage to Priscilla and his frustration with his movie career - and the film ends in 1970, seven years before his death.

This all presents a sanitised version of his life, no hint of a drug addiction or his romances with anyone other than Priscilla. Enthusiastic Elvis fans also complained about the numerous inaccuracies in the movie. Kurt Russell portrayed Elvis.