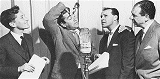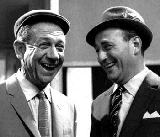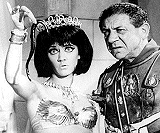 During the war he was a lieutenant in an anti-tank regiment in the Middle East and he used his military gratuity to settle in Britain where he made his film debut in 1947 as Eddie Clanton in 'Black Memory' and an East End bandleader in 'It Always Rains on Sunday.' Films such as 'The Lavender Hill Mob', 'The Titfield Thunderbolt', 'Joe Macbeth' 'A Kid For Two Farthings', 'Quatermas 11' and 'Trapeze' followed and he also appeared in stage musicals such as 'Guys And Dolls' and 'Kiss Me Kate.' Then he took the step leading to him becoming a household name – he joined the 'Hancock's Half Hour' team on radio in company with Kenneth Williams, Hattie Jacques and Bill Kerr.

His down to earth personality and gravely voice endeared him to the public during five years with Hancock on radio and three on television. When Hancock split up the team, Sid was to comment, "I don't think Tony will be as funny without me. I know I won't be as funny without him." But Sid did turn out to be a popular funny man in his own right, particularly in the 'Carry On' series.
He starred in his own comedy show 'Westend, Eastend' and then in 'Double Bunk' with Ian Carmichael, followed by a stint as Archie Andrews' tutor in the radio show 'Educating Archie' when he was offered the lead in the fourth 'Carry On' film, 'Carry On Constable' – and appeared in a total of 19 movies in the series during the next 14 years.

He loved appearing in the 'Carry On's' and said, "The two best things that happened to me in my working life were Tony Hancock and the 'Carry On's."
Sid had a massive heart attack in the mid-1960s and was in such poor health during 'Carry On Doctor' that he had to play all his scenes in bed. His complete 'Carry On' filmography is: 'Carry On Constable', 'Carry On Regardless', 'Carry On Cruising', 'Carry On Cabby', 'Carry On Cleo', 'Carry On Cowboy', 'Carry On – Don't Lose Your Head', 'Carry On Doctor', 'Carry On Up The Khyber', 'Carry On Again Doctor', 'Carry On Camping', 'Carry On Up The Jungle', 'Carry On Loving', 'Carry On Henry', 'Carry On At Your Convenience', 'Carry On Matron'' 'Carry On Abroad', 'Carry On Girls' and 'Carry On Dick.'

He also appeared in a number of 'Carry On' television productions, including 'Carry On Christmas' (two specials) and the series 'Carry On Laughing' (in the episodes 'Orgy And Bess', 'The Sobbing Cavalier', 'The Baron Outlook' and 'The Prisoner of Spender.' After 'Carry On Dick' in 1974, Sid thought he was getting too old for the part of the leering womaniser lusting after young girls he'd played so often in the films. By that time he'd established himself on television, initially in the series 'Citizen James' and 'Taxi' but mainly in 'Bless This House' in which he starred for seven years with Diana Coupland.

He was negotiating a new series when he died. Sid had been appearing in the stage play 'The Mating Season' which had broken box-office records in Australia and brought him a Best Actor award. In 1976, in the British production at the Sunderland Empire, he collapsed on stage in front of the first night audience and died on the way to hospital.

The cheeky chortle would be heard no more . . .