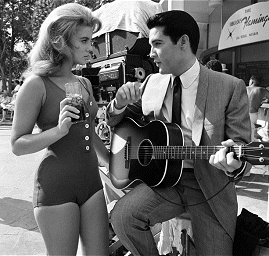 The film was produced by Jack Cummins and George Sidney, directed by Sidney with a screenplay by Sally Benson. It starred Elvis as Lucky Jackson, with Ann-Margret as Rusty Martin, Cesare Danova as Count Elmo Mancini, William Demerest as Mr. Martin and Nicky Blair as Shorty Farnsworth. In the movie, Lucky Jackson has one ambition – to be the world racing champion. To achieve this, he and his mechanic, Shorty Farnsworth, are on their way to Las Vegas to enter their car in the annual Grand Prix. Lucky has won a considerable amount of money in a gambling saloon to enable him to do this.

Arriving in Las Vegas, Lucky meets Count Elmo Mancini, the Italian racing champion, who is preparing his Ferrari for the big race. Lucky turns down Mancini's offer, which involves taking the other cars out of the competition by hard driving so that Mancini can win with little effort. Their minds are taken off racing when a young lovely named Rusty Martin asks them to fix her sports car. Lucky tries to delay her by loosening a wire, but Mancini fixes the car and Rusty is on her way before Lucky can learn her name. Guessing that she's a showgirl, Lucky and Mancini begin a tour of the fabulous Las Vegas strip, but after viewing hundreds of chorus girls, they still haven't located Rusty.

The next morning Lucky finds her by accident – she is the swimming instructor at the hotel where he is staying. The reunion is a happy one for Lucky – until he falls into the pool and the money he and Shorty were going to use for a racing engine is sucked down the drain. To pay his hotel bill he and Shorty become waiters. This makes them eligible to compete for $21,500 in prizes at the annual Employee's Talent Competition.

On his first day off, Lucky and Rusty have their first date and fall in love. On the night of the talent show, Lucky wins first prize, edging out Rusty. But instead of winning cash, Lucky receives a gold cup and a honeymoon in Monaco. Rusty wants Lucky to give up racing because she fears he will get himself killed. She tries to win him over through jealousy by carrying on with the Count.

Their candle lit dinner is turned into a riot when Lucky substitutes for the hotel's regular waiter. Finally, just hours before the big race, the money turns up for Lucky's engine (secretly financed by Rusty's father) thanks to Rusty's inadvertent help. Lucky's car makes the starting gate on time and, in a wild and furious race, Lucky eventually wins and returns to marry Rusty.