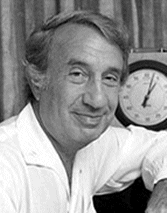 In 1955 composer Alex North (left) was writing the music for a prison drama set in an 'honour' prison called 'Unchained,' which starred Elroy Hirsch and Barbara Hale. The movie had been based on a non-fiction book 'Prisoners Are People' by Kenyon J. Scudler. It was set in a men's prison in Chino, California, and the lead character has to decide whether he wants to escape from jail and continue his criminal career or serve his sentence and return home to his wife and family.

At the last minute the producers of 'Unchained' decided that they wanted a title song for the movie, so North went to visit his friend Hy Zaret (right) and asked him to write the lyrics to his melody. Zaret was painting his house at the time and said he was too busy, but North persisted, and Zaret finally agreed. However, he found he couldn't incorporate the word 'unchained' into the song as requested. Instead, he wrote the story of someone parted from his love by a jail sentence. He didn't have a title, but wrote 'Unchained Melody' at the top of his lyric sheet.

Todd Duncan sang the song on the film soundtrack and, although the film was soon forgotten, the song was nominated for an Oscar and became one of the most recorded songs of all time, with almost 700 different versions by such diverse artists as:
Elvis Presley, Liberace, LeeAnn Rimes, Barry Manilow, Cindy Lauper, U2, Harry Belafonte, Gene Vincent, Roy Orbison, The Lettermen, Joni Mitchell, John Lennon, Bing Crosby, Henry Mancini, James Galway, Leo Sayer, Sonny & Cher, The Supremes, Perry Como, Neil Diamond, George Benson, Val Doonican, Heart, Engelbert Humperdinck, Tom Jones, The Nolan Sisters, Donny Osmond, Elaine Paige, Gene Pitney, The Platters, Cliff Richard, Dionne Warwick, Andy Williams and Il Divo.