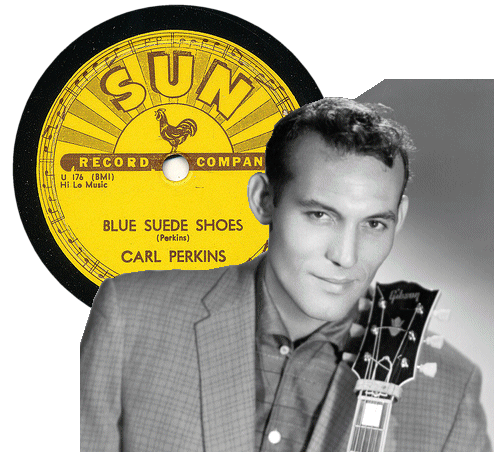 When Johnny Cash was appearing on a show with Carl Perkins in Amory, Mississippi, in the autumn of 1955 he suggested to Carl that he write a song based on a phrase he'd heard during his spell in the Air Force. He said that he'd met an airman, C.V. White who, after getting dressed up to go out, told him, "Just don't step on my blue suede shoes." Coincidentally, only a few days later when Carl was performing in Jackson, Tennessee he saw a dancer trying to keep his girl friend away from his blue suede shoes. He awoke at three o'clock in the morning the next day with the idea for the song in his head and he rushed downstairs to write out the lyrics using a pencil on an empty potato bag. At the time he spelt 'suede' as 'swaed'.

By December of that year Carl had been working on the song with his brothers and they decided to audition for Sam Phillips of Sun Records. Philips considered 'Blue Suede Shoes' to be a sample of 'hillbilly bop,' but since the studio had lost Elvis Presley, he decided to give Perkins a chance and recorded three cuts on tape. When Carl sang "three to get ready, now go boy go!' Phillips suggested he change it to "go cat go.'" The phrase 'drink my corn' was also changed to 'drink my liquor.'

The first few lines of the song were also based on a classic children's rhyme: "One for the money, two for the show, three to get ready". During the session a number of other Perkins songs were recorded: 'Sure to Fall', with his brother Jay taking the lead, 'Tennessee' on which Jay joined Carl on the chorus, and 'Honey Don't.' Phillips decided to master two singles from the sessions, one with 'Blue Suede Shoes' under Carl's name, the other coupling 'Sure to Fall' and 'Tennessee' under the name the Perkins Brothers Band. He then sent acetates of the numbers to some local radio stations who confirmed that 'Blue Suede' Shoes' was the number to run with, so 'Blue Suede Shoes' c/w 'Honey Don't' was released on 1st January 1956 and 'Sure to Fall' c/w 'Tennessee' was held back.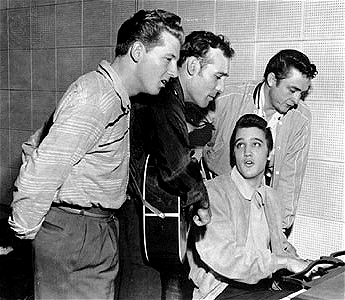 By 11th February it had entered the Memphis Country charts at No.2, rising to No.1 the following week, where it remained for three months.The record began to sell in huge quantities in the South and a number of cover versions began to appear, the first by Pee Wee King who Carl had given a pre-release tape to. Other versions were quickly rushed out, including those by Boyd Bennett, Bob Roubian with Cliffies Stones Orchestra, Sid King, Lawrence Welk, Roy Hall, Sam Taylor and Jim Lowe.

Carl's version not only became Sun's first million-seller, but was the first song to enter the American Country, Rhythm & Blues and Pop charts, the first record ever to cross over into all three charts. Carl earned $20,000 in the first month of release and the single went on to sell a million and a half copies. Elvis Presley also covered the number, but it was only initially available on Elvis' first album and EP. He also performed the number on 17th March on the Dorsey Brothers television show. As Carl was a friend of his, Elvis decided not to release his version of the song until the Perkins version had left the charts.