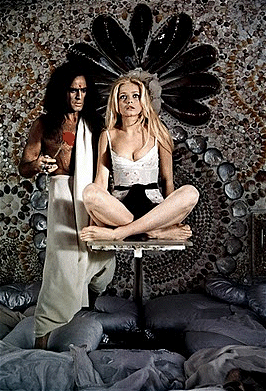 Ringo Starr was offered his first film role in a non-Beatles film in 1968. 'Candy' was an updating of Voltaire's 'Candide', and was scripted by Buck Henry from the rather risqué comic novel by Terry Southern and Mason Hoffenberg that had originally been printed in Paris by the Olympia Press. When it was eventually published in the United States it became a best-seller. The film was an Italian/French co-production shot in Italy by producer Richard Haggiag and director Christian Marquand, with a running time of 128 minutes, and was given an X-certificate. Other stars who appeared in the film included Marlon Brando, Richard Burton and James Coburn.

Ringo played the part of Emmanuel, a Mexican gardener who attempts to seduce Candy Christian. The comparatively unknown Swedish actress Ewa Aulin starred in the title role. Richard Burton portrayed Professor McPhisto, a college lecturer, first in a line of would-be seducers. Italian actress Elsa Martinelli appeared as Candy's Aunt Livia and Marlon Brando played a randy Eastern guru.
McPhisto attempts to seduce Candy after she has attended his lecture and tries again while driving her home. When she arrives she finds that he has spilled whisky on her dress so she takes it off and begins to sponge it. Emmanuel the gardener enters the room and grabs her, attempting to make love to her on a pool table. Her father (played by John Astin) arrives and the gardener is thrown out. His pride hurt, Emmanuel complains to his relatives and this ill-assorted group of Mexicans pursue Candy and her father to the airport on motorbikes. One of Emmanuel's kinfolk hurls a bolas, which splits open the head of Candy's father.

Apart from a brief appearance at the end of the movie, Ringo takes no further part in the film. Though much publicised, his part was little more than a cameo role with only a few lines of dialogue of the "Dis no good" variety – wearing a suitably lustful leer on his moustachioed face as he tries to seduce Candy.

Candy flies off and is involved in an incident with the pilot when she shows him her breasts. Having been isolated in his cabin for years, he is so shocked he parachutes out of the plane. Miraculously the aircraft lands safely in New York where Candy's father undergoes an operation during which his blonde daughter has to fight off the attentions of the doctors. Her other encounters include a film director, a hunchback and a holy man.
She escapes the attentions of the latter to find herself in a temple, where she discovers the bound body of her father.

Terry Southern was also the author of 'The Magic Christian' on which Ringo's second solo movie was based, and was included as one of the figures on the 'Sgt Pepper' album cover.