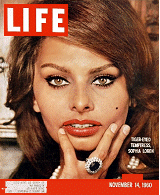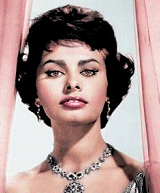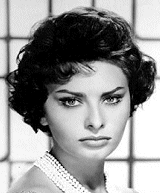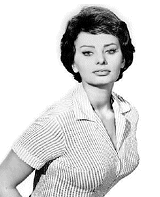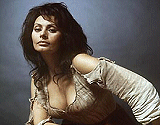 "Her feet are too big. Her nose is too long. Her teeth are uneven. She has the neck, as one of her rivals has put it, of a 'Neapolitan giraffe.' Her waist seems to begin in the middle of her thighs, and she has big, half-bushel hips. She runs like a fullback. Her hands are huge. Her forehead is low. Her mouth is too large. And mamma mia, she is absolutely gorgeous." TIME MAGAZINE. April 6, 1962.

As Sophia Scicolone, a 14-year-old girl, she made her film debut as an extra in 'Quo Vadis.' Sophia continued appearing in bit parts in Italian films but by the following year had changed her surname to Lazzaro. The first time she received film credit as Sophia Loren was in 1952 with 'La Favourite' and her first major role was in 'Aida' in 1953. She rapidly became a leading name in Italian cinema and was attracting the attention of filmgoers throughout the world. In 1957 she made her entry into the top league with her appearance as leading lady in 'the Pride and the Passion' with Cary Grant and Frank Sinatra, in 'Boy On a Dolphin' with Alan Ladd and in 'Legend of the Lost' with John Wayne. By 1960 she was an established international star. Her films of the Sixties were:

HELLER IN PINK TIGHTS (1960). An unusual comedy Western, set in 1880, with Sophia as Angela Rossini who is touring the American West as part of the Healey Dramatic Company. Anthony Quinn appears as Tom Healey, leader of the troupe, in his third appearance with Sophia (the other films were 'Attila the Hun' and 'The Black Orchid). There are problems with gambling debts, Indians and pursuing gunfighters.

This marked only her fifth Hollywood film, but she decided to leave Hollywood for good, never to return, saying, "It is not their fault that they do not know what to do with me. To the Americans, we Italians are still mostly gangsters and waiters. And they have never been able to accept a foreign actress for what she is. They feel they must change her. So it was with me. Had I stayed on I would have become just another assembly line beauty."


IT STARTED IN NAPLES (1960). The story of an American who arrives in Naples to settle the estate of his dead brother and discovers that his brother was the father of a ten-year-old boy, Nando, who is looked after by Lucia, his Aunt. Clark Gable portrayed Mike Hamilton who wants to take the boy back to America. Lucia insists he remain with her. It is a comedy with some charm. Originally, Gracie Fields had been considered for the Loren part.

A BREATH OF SCANDAL (1960). Set in Austria, featuring a theme popular with Americans at the time – that of an American capturing the heart of a member of European nobility. Sophia starred as Princess Olympia in an Austrian-style Royal Family who is ordered by her father to marry Prince Rupert of Prussia. She falls in love with a mining-engineer from Philadelphia instead and elopes with him to America. Maurice Chevalier was Prince Philip and John Gavin portrayed Charlie Foster, the engineer. The film generally received bad news, citing the wooden performance of Gavin and what they considered as miscasting for Sophia.

THE MILLIONAIRESS (1960). Her second British film (the first was 'The Key' in 1958) was a colourful version of George Barnard Shaw's play. For the second time her leading man fell in love with her (the first time was with Cary Grant when they starred in 'Houseboat', this time it was Peter Sellers). The two even recorded a song together and the single, 'Goodness Gracious Me' was a chart hit. She is a millionairess who is unable to make any man happy. She falls in love with an Indian doctor who runs an East End clinic, but he tells her he can only marry a woman who could prove she could earn a living for herself in three months, with only £3.6s to start with. New York Times critic Bosley Crowther commented: "She lies seductively on sofas, takes advantage of low-cut gowns, occasionally slips out of her dresses and when she isn't rolling her hips, she rolls her eyes."

TWO WOMEN (1960). A highlight in Sophia's career. Originally, Carlo Ponti and director Vittorio Di Sica felt Anna Magnani was the ideal choice for the mother, with Sophia as the 17-year-old daughter. Magnani was furious. "I'm too young to play Loren's mother. Let her play the part herself," screamed the 52-year-old actress. Sophia did and was voted Best Actress at the Cannes, Cork, Japanese, Belgian, Spanish and Taormina film festivals.
She received the British Film Academy and New York Film Critics awards including, the icing on the cake: the Academy Award for Best Actress. Set in 1943 and based on the Alberto Moravia novel, it is an intensely dramatic film which follows the fortunes of a mother and her 13-year-old daughter who flee Rome for the countryside where they encounter hope, despair, anger, grief and love.

EL CID (1961). Sophia had to be talked into appearing in the film by director Anthony Mann. It is a film which suits her admirably as the legendary beauty Chimene, love of Spain's greatest warrior El Cid in an eleventh century Spain divided into Christian kingdoms and Moorish strongholds. It was one of the last of the great spectacular movie epics.

MADAME (1962). Delays in the shooting of 'El Cid' prevented Peter Sellers appearing in the role of Napoleon in this Italian/French/Spanish co-production set in a lower-class district of Paris in the 18th century. Sophia portrays Catherine Heubscher, a laundry girl who aids her love, an army sergeant, in his military activities. Their adventures result in them being made King and Queen of Westphalia by Napoleon.

BOCCACCIO '70 (1961). A three-episode film based on stories from the Boccaccio, each segment directed by a major Italian director. Vittorio de Sica directed Sophia in 'The Raffle.' As an employee with a travelling fair, who is offered up in a raffle by her boss – and is won by the meek and mild sexton of a tiny village.

FIVE MILES TO MIDNIGHT (1962). Sophia is teamed up with Anthony Perkins for the second time (following 'Desire Under the Elms) in a story concerning insurance fraud and the deteriorating relationship between a French wife and her American husband as they get caught up in a web of intrigue.

THE CONDEMNED OF ALTONA (1962). Dreary post war tale of a wealthy German family of industrialists who have been concealing one of their members, a Nazi war criminal, in their mansion since the end of the war.

YESTERDAY, TODAY AND TOMORROW (1963). Sophia and Marcello Mastroianni appear in three stories as different characters. In the first a housewife staves off a jail sentence by using a loophole in Italian law which stipulates that no mother-to-be can be jailed until six months after delivery – so she continues to have babies. In the second story she is the wife of a rich industrialist, having an affair with a struggling writer. A trip in a Rolls Royce proves to them how incompatible they really are. The third story was directed by Vittorio de Sica and has Sophia playing a Roman call girl who infatuates a young man who intends to become a priest. It won the academy Award as Best Foreign Film.

THE FALL OF THE ROMAN EMPIRE (1964). Despite its lavish production values, an epic which proved unpopular. Perhaps director Anthony Mann hit the mark when he said, "It has a defeatist theme. I was very conscious that I might be stepping into a hole doing this, because I just don't think people are interested in defeat."

MARRIAGE, ITALIAN STYLE (1964). Another magical teaming with Mastroianni and director de Sica. Filumena has been the mistress of a businessman for 19 years. When she hears he is about to get married, she pretends to be on her death bed – and to save her from mortal sin, he agrees to marry her.

OPERATION CROSSBOW (1965) Downbeat war movie in which all the stars are killed off. Based on the story of the V.I. rocket, it introduces Sophia as a German woman looking for her husband - and she is shot in a shock scene.

LADY L (1965). Sophia appears as an 80-year-old woman at the beginning of this rags-to-riches story of a laundress who becomes Lady Lendale, a pillar of the English aristocracy. Directed by Peter Ustinov, with David Niven as Lord Lendale and a miscast Paul Newman as an Italian, the film was drastically cut on its release.

JUDITH (1965). A survivor of the concentration camps, Sophia arrives in Palestine in 1947. Her husband was a German who betrayed both her and her son to the Nazis. He is in Palestine and she seeks revenge.

ARABESQUE (1965). A light-hearted and delightful film in which Sophia has the opportunity of sporting a glamorous wardrobe – over £50,000 worth of clothes by Dior. Gregory Peck co-starred in this spy romp set in London.

A COUNTESS FROM HONG KONG (1966). Written and directed by Charlie Chaplin and co-starring Marlon Brando, it was anticipated that this would be a major box office success. It was a flop. Carlo Ponti had wanted Chaplin to write something for Sophia for some years and when Chaplin met her during the shooting of 'Lady L', the idea became a reality – but the critics didn't like it.

CINDERELLA – ITALIAN STYLE (1967). A film which had several alternative titles, including 'Happily Ever After' and 'More Than A Miracle' – it was originally to be called 'Once Upon a Time.' Sophia starred as a peasant girl who falls in love with a Prince. At the end they get married and live happily ever after.

GHOSTS, ITALIAN STYLE (1967). Her last film before becoming a mother. A complex plot in which a wife decides to teach her shiftless husband a lesson. They are given rent-free occupation of a haunted palace.

SUNFLOWER (1969). Her last film of the Sixties and a return to the teaming with Mastroianni and de Sica. The tragic story of a husband and wife parted by the war. There is a search, a brief reunion, but time has changed them and they cannot recapture the past.