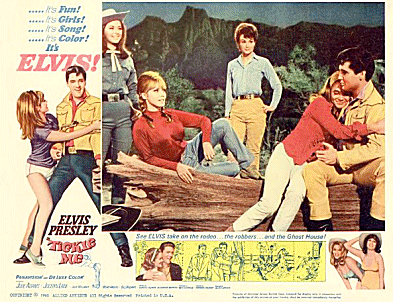 In the story, rodeo rider Lonnie Beale (Elvis) alights from a Greyhound bus at Zoni Wells and carrying his suitcase and guitar enters a bar where he hears Deputy Sheriff Sturdivant (Bill Williams) tell the bar tender that the sheriff is away fishing for two weeks. When he leaves Lonnie asks the bartender if he knows Pete Bowman, who has promised him a job until the rodeo season starts. The barman tells him that Bowman got himself into some trouble and had left town. Spotting Lonnie's guitar, the barman offers him a job entertaining.

During one of his songs, a blonde is obviously attracted to Lonnie and her boyfriend starts a fight with him. Lonnie quickly sorts him out with a few Kung Fu moves, which catch the eye of Vera Redford (Julie Adams) who owns the Circle Z ranch and she offers him a job. He finds it's an all-female ranch where women go to slim and improve their health. Lonnie is taken around the ranch by Brad Bentley (Edward Faulkner), who is in love with Vera and sees Lonnie as a rival, but Lonnie is immediately attracted to the aerobics instructor, Pamela Merrit (Jocelyn Lane). He's next placed in the hands of Stanley Potter (Jack Mullaney), who shows him the ropes and explains that the ranch helps to make girls beautiful: "We roast them, toast them, wiggle them, jiggle them – and give them very little to eat!".

When everyone gathers for supper that evening, Lonnie approaches Pam, but she gives him the cold shoulder, he then entertains the company with a song. He also begins to entertain the female staff with a song the next morning while feeding the horses, but Brad and Pam complain to Vera about him, saying he is distracting the staff from their work. Lonnie tries to talk to Pam again but she is suspicious of anyone she doesn't know because she has a letter which has some clues to a treasure of $100,000 which her grandfather has hidden in a ghost town.

That night a burglar tries to steal the letter from Pam's room and when Lonnie comes to her rescue she accidentally knocks him out and the burglar escapes. The next day she is visited by the Deputy Sheriff who tells her that the attack was her own fault because she has been saying too much about her grandfather's treasure. The next day Brad and Lonnie fight. Lonnie knocks him out, but this doesn't impress Pam who drives off in a jeep, setting off for the ghost town alone, even though it has the reputation of being haunted. Arriving in the deserted town, she begins searching for clues in the saloon when Lonnie arrives, worried about her safety. The two then imagine what the saloon was like in the old days and images come to life, in a 'dream sequence' featuring people that they know.

The couple, now feeling even more attracted to each other, return to the ranch and in the evening Lonnie sings once again, but Pam gets upset when he seems to be flirting with the other girls and leaves.