Elvis's preferences veered from the angelic to the temptress, from the tender young innocent to the overtly sexual. There seems to be no middle ground. Such a firm pattern lends itself readily to analysis and no doubt a psychological profile would provide some insight. Elvis had a stillborn twin brother, Jesse Garon. Gladys insisted that she had been carrying identical twins and impressed upon Elvis a belief that the personality of his stillborn brother had been transferred to him. Possibly Elvis felt he had two people inside his head. There was also the influence of his mother, Gladys. He adored her – and any future wife and mother of his children would also be placed on a pedestal. His future wife would therefore be chaste…while he, on the other hand, could continue to sow his wild oats!

While Priscilla had been living at Graceland and studying at local schools, Elvis had moulded her into the image of his various fantasies, encouraging her to dye her hair black because he liked the colour of Debra Paget's hair. Yet the decision to marry Priscilla was the Colonel's. The man who had prevented Elvis marrying other amours literally ordered him to propose – and then took control of the wedding arrangements and resulting publicity. Exactly nine months after the marriage, Elvis's only child, his daughter Lisa Marie Presley, was born. The marriage didn't even survive five years and the couple split in 1972 when Cilla became romantically involved with a karate teacher, Mike Stone. Elvis divorced her the same year.

Priscilla then sought a career in show business, although she turned down the role of Tiffany Welles in 'Charlie's Angels' before appearing as Jenna Wade in the 'Dallas' series. In recent years she has appeared as the romantic foil of Leslie Neilson in the 'Naked Gun' comedy movies. Through the years she has also been involved in affairs with a number of men, including actor Michael Edwards, hairdresser Ellie Ezerzer and writer Marco Garibaldi.

She gave birth to Garibaldi's child, Navarone, in 1987. Priscilla Presley who, at first, appeared to be a little girl easily manipulated, developed into a strong, mature businesswoman with a mind of her own. The fact that his own wife would reject him for another man shattered Elvis's confidence. For the King to be cuckolded was humiliation enough, but many of his friends felt he began to go downhill after such a blow and began to lose himself in drug dependency.
Women would still flock round him, he could still take his pick of beautiful, teenage girls – and continued to do so – but something within Elvis had died when Priscilla turned out to be a Delilah.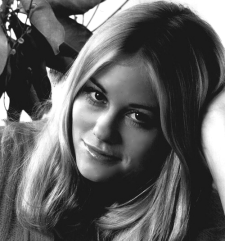 Cybill Shepherd