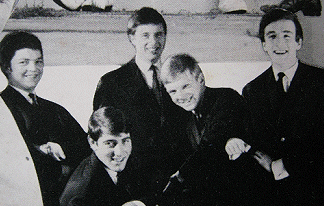 The Dennisons seemed set for major stardom. When they first appeared at The Cavern, on Tuesday 1st May 1962, lead singer Eddie Parry was only 16, but compere Bob Wooler was to say, "They've created the biggest impression on Merseyside since The Beatles".

The group, who were named after a Liverpool street, went on to tour with artists such as Tommy Roe and Ben E. King and King was so impressed with the group that he penned a number specially for them, 'You Don't Know What Love Is', which became the flipside of their single 'Walkin' the Dog'.

The group had formed in July 1961, comprising of Eddie on vocals, Ray Scragg on rhythm guitar and vocals, Clive Hornby on drums, Steve McLaren on lead guitar/vocals and Alan Willis on bass and were initially managed by Clive's parents. Hornby, who had been working as an account clerk for six months, gave up his job to join the band. It was said that they had initially gained the inspiration to form a band after watching rehearsals with a local group called The Ravens (who later evolved into Faron's Flamingos). They'd attend the rehearsals and write down the chords of the songs.

They then made their debut with a Saturday night residency at the BICC club in Melling. Clive recalls, "We were booked to do 40 Friday-night gigs at BICC and became very popular, very quickly, in Liverpool. When that happened and we were in demand to play elsewhere, we found ourselves still playing off those dates for almost nothing. We performed on the same bill as The Beatles a few times, at The Cavern and Aintree Institute, before they broke nationally. They were a big group in Liverpool and we could see what they were going to do".