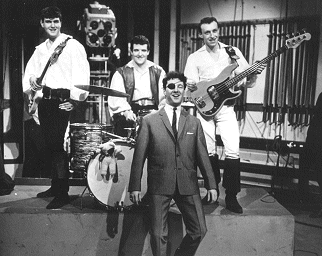 Johnny Kidd was one of the leading British rock 'n' roll stars at the beginning of the Sixties. Born Frederick Heath in Willesden, north-west London, on 23rd December 1939, he formed his first group, Freddie Heath & The Nutters, during the skiffle boom. An EMI recording contract brought him his first hit with his debut record 'Please Don't Touch', which reached No.25 in the charts in 1959. By that time he'd changed his name to Johnny Kidd and dubbed his backing band The Pirates.

The group comprised Brian Gregg on bass guitar, Art Caddy on lead guitar and Clem Cattini on drums. This line-up left him in 1961 to become The Tornados.
With a touch of showbiz, Johnny capitalised on the Pirates' name, presenting a show which featured a pirate theme. He wore swashbuckling leather gear and a black eye-patch over his left eye. It was rumoured that he had originally worn the patch one night on stage after a guitar string broke and caught his eye. Joe Brown used to comment that Jack Good made Johnny wear the patch to stop him winking at the Vernons Girls!

It became a trademark and he always carried six of them, due to the fact that fans kept pinching them. When his original backing group left, he took on Cuddly Dudley's former backing band and later formed the trio which was to have some influence on heavy metal bands of the future - Mick Green on guitar, Johnny Spencer on bass and Frank Farley on drums. 'Please Don't Touch' was followed by 'You Got What It Takes', which also reached No.25. His next release, the classic 'Shakin' All Over', reached the No.1 spot. This was followed by 'Restless', also in 1960, which reached No.22. There were several other hits, which included 'A Shot Of Rhythm And Blues' and 'I'll Never Get Over You.'

Johnny Kidd & The Pirates appeared for a week at the Cavern from Monday 14th May 1962 and later topped the bill above The Beatles on Friday 10th August 1962 during the Riverboat Shuffle on the Royal Iris. In the midst of a hectic schedule of one-nighters, Johnny was killed in a car crash at Radcliffe, Lancashire on 7th October 1966. He was 26 years old.