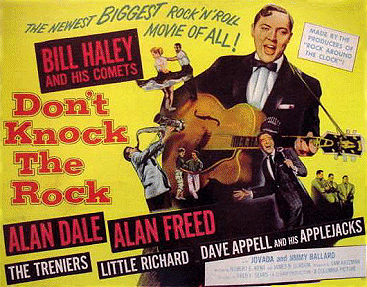 Freed then became involved in a 'payola' scandal in November 1959 (even though payola was not illegal until 1960) and he was to say that he had only claimed payment from record companies as a 'consultant'. The case went on for some time and in 1962 he pleaded guilty to two of the charges of commercial bribery and was fined $300. However, in the meantime, WINS had dropped his contract and he'd moved to KDAY radio in Los Angeles but the station refused to allow him to promote live shows so he left the station and moved back to Manhattan where he began to promote some live shows.

On the move again, he settled in Miami at WQAM but only lasted for two months. His career, due to the payola scandal, was effectively over and he became depressed and took to drink. He died in Palm Springs, California, on 20th January 1965 of bleeding oesophageal varices and cirrhosis of the liver. His major contribution to rock and roll was finally acknowledged in 1986 when he became one of the first inductees in the Rock & Roll Hall of Fame in Cleveland when he was made a charter member as a non-performer. He was also inducted into the Radio Hall of Fame in 1988 and in 1991 he received a star on the Hollywood Walk of Fame.

As the first disc jockey in America to actively promote and play records by black artists for white audiences, his contribution to the development and popularity of rock and roll was immense, hence the acknowledgement in numerous films. He appeared as himself in 'Rock Around The Clock' (1956), 'Don't Knock The Rock' (1956), 'Rock Rock Rock' (1956), 'Mister Rock And Roll' (1957) and 'Go, Johnny Go' (1959). In 'Rock Rock Rock' he was to tell the audience "Rock and roll is a river of music that has absorbed many streams: rhythm and blues, jazz, ragtime, country songs and folk songs. All have contributed to the big beat". Judd Nelson starred as Freed in the 1999 television biopic 'Mr Rock 'n' Roll: The Alan Freed Story'.

Freed has also been portrayed by other actors: Tim McIntire in 'American Hot Wax' (1978), a film also based on Freed's life; Jeffrey Alan Chandler in 'La Bamba' (1987); Robert Lesser in 'Great Balls of Fire' (1989) and Tom Clark in 'Ray' (2004). In his personal life Freed married Betty Lou Beam in 1943 when they were both 21 years old. They had two children, Alana and Lance. The couple divorced in 1949 and Betty Lou was awarded custody of the children. His second marriage was to Marjorie J. Hess in 1950 and they also had two children, Sieglinde and Alan Freed Jr. They divorced in 1958 and Marjorie was awarded custody of the children.
His third marriage was to Inga L. Bolingwhom in 1959.