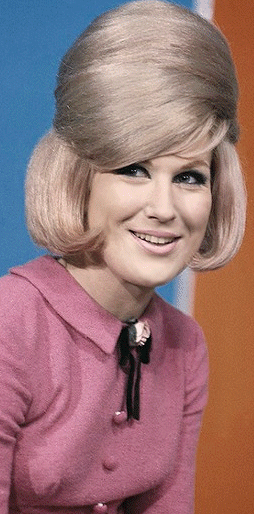 Born Mary Isobel Catherine Bernadette O'Brien in Hampstead, London, on 16th April, 1939, she originally began her career as a singer with the Lana Sisters trio. In 1960, together with her brother Dion and a friend, Tim Field, she became a member of the folk trio The Springfields, changing her name to Dusty Springfield, with Dion becoming Tom Springfield.

Their second single, 'Breakaway', entered the UK chart and they followed up with the hits 'Bambino', 'Island of Dreams', 'Say I Won't Be There' and 'Come On Home', although Field left the group in 1962 and was replaced by Mike Hurst. Having been voted Best UK Vocal Group, The Springfields disbanded in 1963 when Dusty embarked on a solo career. Hurst was to become a record producer and produced Showaddywaddy in the 1970s. Tom Springfield became a composer and wrote the hits 'The Carnival Is Over' and 'Georgy Girl' for The Seekers.

Dusty was noted for her bell-shaped skirts with starched petticoats, a blonde-bouffant hair-style and long, black, mascara-laden eyelashes. Her first album was released in 1963 on Fontana simply titled 'A Girl Called Dusty', which included the song 'My Colouring Book'.

Her UK hit singles between 1963 and 1979 were:
'I Only Want to Be With You' (the first song to be played on 'Top Of The Pops'), 'Stay Awhile', 'I Just Don't Know What To Do With Myself', 'Losing You', 'Your Hurtin' Kind of Love', 'In the Middle of Nowhere', 'Some of Your Lovin', 'Little By Little', 'You Don't Have To Say You Love Me', 'Going Back', 'All I See Is You', 'I'll Try Anything', 'Give Me Time', 'I Close My Eyes And Count to Ten', 'Son of a Preacher Man', 'Am I the Same Girl', 'How Can I Be Sure' and 'Baby Blue'.

She had her own television series in 1967. In 1968 she travelled to America to record her album 'Dusty in Memphis' and decided to relocate to Los Angeles in 1972. Her chart days were virtually over and she became a session singer, providing back-up vocals on records for artists such as Anne Murray. She was later to say that she "lost nearly all of the 1970s in a haze of booze and pills", admitted sleeping with both men and women, and became a virtual recluse for some years.

In 1984 Dusty duetted with Spencer Davis on 'Private Number', returned to the UK the following year to record 'Sometimes Like Butterflies', but found her biggest hit for years when she was a guest singer on The Pet Shop Boys 'What Have I Done To Deserve This'. She then sang the theme to the British movie 'Scandal', which was also penned by The Pet Shop Boys. When British comedian Bobby Davro portrayed her as a drunk on his show, she sued and received £75,000 damages. After returning to the UK chart in the late 1980s with 'What Have I Done To Deserve This', Dusty made her way back from Los Angeles to live in England once more. In 1994, she and Cilla Black duetted on the single, 'Heart and Soul'. She also recorded the album 'Dusty in Nashville', 25 years after her LP 'Dusty in Memphis'.

A few months later she was diagnosed as having cancer of the breast and a lump was removed. Following the operation Dusty spent months receiving chemotherapy and radiotherapy, which was successful at the time. However, in February 1998 the 58-year-old singer, now living in a luxury home in Hurley, Berkshire, discovered that the cancer had returned. In 1999 she was awarded an OBE and was to receive it on 2nd March, which was the day she died. Her manager Vicki Wickham had arranged to receive the award on Dusty's behalf one month before the singer's death. Dusty was also inducted into the Rock and Roll Hall of Fame 13 days after she died.