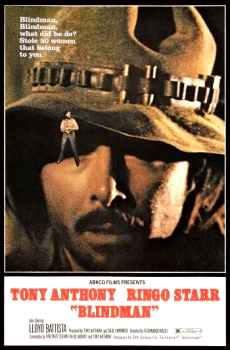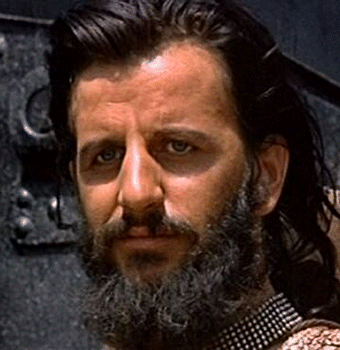 Produced by Saul Swimmer (who went on to produce 'The Concert For Bangla Desh' film) and directed by Ferdinando Baldi in Almeria, Spain in 1971. The Italian western had been written by Tony Anthony who also played the lead. Ringo Starr's appearance was arranged by Allen Klein who also appeared in the movie, along with Mal Evans, The Beatles' road manager. The film was in colour, ran for 105 minutes and received an 'X' Certificate in the U.K. Apart from Anthony as the title character, Ringo was cast as a baddie called 'Candy', Agneta Eckmyr was Pilar, Lloyd Batista was Domingo and Magda Konopka was Sweet Mama. As usual with spaghetti westerns, the location was Spain and the filming took place between June and August 1971.

The film's plot concerns a blind gunslinger who is hired to escort fifty beautiful women to an equal number of miners from Texas who have marriage in mind. On his way to collect his charges he discovers a ruthless Mexican bandit, called Domingo, has hijacked them. He sets off for the border, riding a horse that seems to know the way, coming across an old man whose daughter Pilar has been ravished and kidnapped by Domingo's brother, Candy. The old man leads him to the bandit's camp but Domingo and his sadistic sister, Sweet Mama, have sold the girls to a group of Mexican soldiers. They then massacre the men before imprisoning their General. Blindman captures Candy and offers to exchange him for the girls. He is tricked and ends up with 49 aged Mexicans and Sweet Mama, who captures him and puts him in a cell with Pilar and the General. Blindman escapes from jail with the General and later kills Candy. Domingo then arranges a bizarre funeral-marriage between Candy and Pilar. The general arrives with his troops and routs the bandits while Blindman kills Domingo. He discovers that the General has taken all the girls and sets off, once more, in pursuit.

The 'Monthly Film Bulletin' commented: "There are some nice ideas here and there, notably the spectacle of the fifty girls twittering through the desert in their nighties and being rounded up like a herd of cattle and of Ringo Starr tethered to a locomotive and hung with cowbells lest he move without alerting the Blindman". The film did not receive the international distribution of Ringo's previous movies. It opened in Rome on November 15th 1971 and in America received a premier in Chicago on January 12th 1972. Later that year it received a limited showing in Britain.

Although Ringo wrote some music for the film, his soundtrack was never used. The song 'Blindman', two minutes and forty seconds in length which he co-produced with Klaus Voormann on August 18th and 19th 1971, ended up as the 'B' side to his single 'Back Off Boogaloo'. Pete Ham of Badfinger also plays on the track. It was rumoured that Ringo was to compose the film's entire soundtrack but when the producers heard this number, they cancelled it.