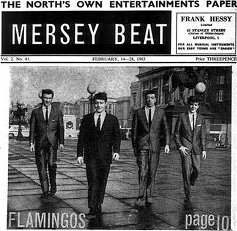 In January 1961 Faron left the band to join Gerry & The Pacemakers on their eight-week trip to Hamburg to appear at the Top Ten Club and he was replaced by vocalist Earl Preston, the band becoming Earl Preston & The T.T's. Due to a dispute in Hamburg, Faron's partnership with Gerry ended and he returned to Liverpool and became compere at Blair Hall for promoter Wally Hill. He then formed Faron's Flamingos, with himself on vocals, Paddy Chambers on lead, Nicky Crouch on guitar/vocals, Mushy Cooper on bass and Trevor Morais on drums. Mushy left to join The Renegades and Faron's Flamingos began to build a big following locally, with Faron taking on bass and vocals. After a gig at Holyoake Hall, compere Bob Wooler, who had suggested the name 'Faron's Flamingos' in the first place, was chatting to Faron and Nicky in the bus shelter at Penny Lane and coined the phrase 'the panda-footed prince of prance' to describe Faron.

The group had appeared in American military bases in France and the 227th Service Club was renamed 'The Flamingo Club' in their honour. The Flamingos had the potential to become a major act. Thom Keyes travelled with them to gigs for a time and based his book 'All Night Stand' on the experience. They were managed by Jim Turner and Mersey Beat predicted big things for them. They had the opportunity when they recorded a blistering version of 'Do You Love Me', but Oriole Records relegated it to the flipside, thus destroying the group's chances of a successful recording career. Oriole just couldn't compete with the majors in terms of financial muscle, promotion and song-pluggers. After their arrangement of 'Do You Love Me' hurtled Brian Poole & The Tremeloes and The Dave Clarke Five into the big time, the disillusioned Flamingos decided to call it a day. Ironically, by 1970, the Flamingos version of 'Do You Love Me' had sold 250,000 copies and earned a silver disc.

Johnny Hutchinson of The Big Three then hired Faron and Nicky to join him, although they weren't very happy to be just paid a wage rather than participate in any division of earnings and Paddy was to leave after four months and eventually became a member of Paddy,Klaus & Gibson. Paul Pilnick then replaced him, but success didn't come their way and Faron left in 1964 to form a new Flamingos. In 1967 he decided to take a break and became the entertainment officer at Huntley & Palmer's where he remained until 1976 when he decided to re-form Faron's Flamingos, initially playing in a 'heavy metal' style.