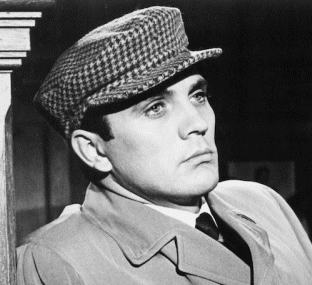 The sixties proved a busy time for Terence Stamp. At one time he shared a flat with Michael Caine and during the decade was involved in two well-publicised affairs, the first with actress Julie Christie, the second with model Jean Shrimpton. As a handsome leading man, he seemed destined to become a major star. But, despite the fact that his career in the movies continued up to the present time, his major roles faded away in the Seventies.

Stamp made his film debut in 'Billy Budd', the Herman Melville tale of an innocent seaman who, due to a series of unfortunate circumstances, is executed by hanging. He next appeared in 'Term of Trial', a drama in which a schoolteacher (Laurence Olivier) is accused of molesting a schoolgirl (Sarah Miles). Stamp was promised the lead in 'The L-Shaped Room', but when Brian Forbes took over as director he had casting ideas of his own and signed Tom Bell. Stamp's next major role was in 'The Collector', the bizarre John Fowles novel which told of a young man so obsessed with a girl that he kidnaps her - and decides to make a hobby of his crime.

Following his Broadway appearance in 'Alfie', he was offered the lead in the screen version, but turned it down to appear in the abortive 'Modesty Blaise' instead. His flatmate Michael Caine went on to portray 'Alfie'. Terence next signed up for the role of the swinging sixties photographer in 'Blow Up', a part specially written for him by Italian director Michelangelo Antonioni. The plan was for Jean Shrimpton to appear in the film with him. Shortly before filming began, Antonioni changed his mind and decided to use an unknown, David Hemmings, instead - even though he had to pay Stamp because he'd already signed a contract for the part.

Stamp's next appearance was as the dashing cavalry officer in 'Far From The Madding Crowd' with Julie Christie and he then left for Hollywood to star in 'Blue' a Western which Robert Redford had wisely turned down. The next stage of his career took him to Italy at the invitation of renowned directors Federico Fellini and Pier Paolo Pasolini and his Italian film appearances included 'Una Stagipone All' Inferno', 'La Dovona Creatura', 'Amp Non Amp' and 'Morte In Vatoco'.

An East-Ender born in 1940, Stamp was the son of a Thames tug driver. He left school at 16 and took a variety of jobs before winning a scholarship to drama school. Over the years he has developed an interest in Eastern philosophy and mysticism and is the author of three volumes of autobiography. As a veteran actor he has proved to be more successful than as a leading man and has appeared in more than sixty films. His Sixties filmography is: 'Billy Budd' (1962), 'Term of Trial' (1962),'The Collector' (1965), 'Far From the Madding Crowd' (1967), 'Poor Cow' (1967), 'Histoires Extraordinaires' (1967), 'Theorem' (1968), 'Blue' (1968) and 'The Mind of Mr. Soames' (1969).