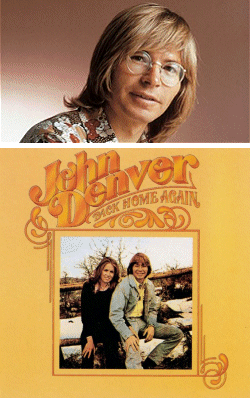 John Denver and his wife had been separated when he wrote this love song to her. The number, which had originally been a track on his June 1974 album 'Back Home Again', sold more than a million copies and remained in the No.1 spot in the American charts for two weeks in July 1974, becoming his second chart-topper. It also topped the British charts, becoming his only major hit in the U.K. The number was produced by Milt Okum and was inspired by John's wife Annie Denver, nee Martell, who came from St. Peter, Minnesota. The couple had first met at a college concert but were later to become estranged due to Denver's sudden success and they were separated at the time he wrote the song. Annie was the mother of two of his three children. They adopted a son Zachary and a daughter Anna Kate because John was infertile at the time. After his divorce from Annie in 1983, Denver married Australian singer Cassandra Delaney in 1988. Denver then had treatment for his infertility and his second wife gave birth to their daughter Jesse Belle. John and Cassandra were divorced in 1993 and he and Annie reconciled.

Strangely, there haven't been many covers of this classic song, something which Denver commented on in 1994, saying, "People don't cover my songs as much as they should, which is a shame. 'Annie's Song' is still one of the best-loved songs of recent years, yet no-one's recorded it other than James Galway". Galway's version reached No.3 in the British charts and he had recorded it in honour of his second wife Annie Renggli. However, the song has appeared on a number of Denver's compilation albums, including 'Annie's Song: A Collection Of His finest Recordings', issued in 2006.

John was born Henry John Deutschendorf, Jr. in Colorado in 1943 and became a major singer-songwriter with compositions such as 'Take Me Home Country Roads' and 'Riding On A Jet Plane'. In 1977 he was made Poet Laureate of his home state. During his lifetime he recorded over 300 songs, half of which he had written. John died when his Long E-Z plane crashed into Monterey Bay in California in 2007. 'Annie's Song' has become one of the most popular numbers to be performed at wedding ceremonies, although for a time it was banned from Catholic ceremonies due to the suggestion of premarital sex.

Commenting on the origin of the song, John said, "I wrote this song in about ten and a half minutes one day on a ski lift. I had just skied down a very difficult run called 'Elevator Shaft' in Aspen. You know how there's that great physical exhilaration when you've really extended yourself and been right out there in the edge and a little bit out of breath and you really feel your whole body. And then you get on a ski lift and you're riding up and you can become totally immersed in how beautiful it is, the blue of the sky, the colours around you; the sounds of it all. It seemed that there's something there for all of your senses".

"So anyway there I was sitting on the chair lift and I began thinking about this woman that I've been in love with for so long and thinking about how there was something there in her and our relationship that totally filled me and in the ten and a half minutes it takes to ride from the bottom to the top of Bell Mountain I wrote this song, got very, very excited about it, raced down the mountain, ran home and picked up the guitar and played it, and the chords were there, the melody was there, it was all there. Sometimes when I write a song I feel like I have nothing to do with it. I just happen to be the guy with pen in hand when it came floating by. This is one of those songs".

Incidentally, the name Annie is not mentioned in the lyrics to the song. Of the handful of covers, some have been rather unusual - and there was even a punk version of the number, with altered lyrics, issued on the album 'Live Their Country' by Me First & The Gimme Grimes, plus a German version 'Die Freude am Leben Kann uns Niemand Nehmen' by The Kelly Family, together with an Urdu version by Khalid Waheed called 'Mere Jeevan Main Ana'. There have also been covers by Glen Campbell, Roger Whittaker, Placido Domingo, Sunshine Club, Erik Berglund and Jane Oliver.