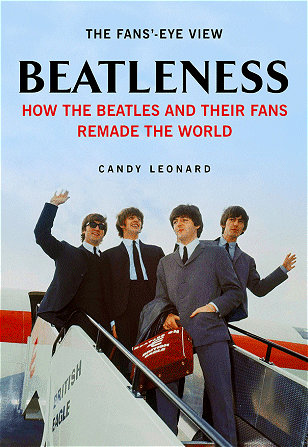 BH: What surprises did you have or conclusions you made when writing the book. Were there any further insights you gained which you weren't aware of before?

CL: I knew fans had very strong feelings about The Beatles, and wanting to document those feelings is one of the reasons I wrote the book. But actually hearing fans articulate those feelings was very moving. Many spoke of The Beatles as siblings, or surrogate parents. Many said The Beatles influenced them more than anyone else in their lives. Many spoke about how The Beatles got them through very hard times, even through thoughts of suicide. Fans spoke with great gratitude about how The Beatles were always there for them, offering support. Another interesting finding was how gender and age determined how fans related to The Beatles. Fans often say The Beatles provided the soundtrack for their lives, but the interviews revealed something much more profound. Soundtracks are in the background; The Beatles were very much in the foreground, an integral part of fans' daily lives.

BH: Which fans did you find the most intriguing?

CL: Perhaps I'm biased because I was a young fan (7½ when The Beatles entered my life), but I was especially moved by some of the interviewees who were seven, eight, nine, ten years old in 1964. Not only did I find their stories personally affirming, but their narratives illustrate an important point about The Beatles influence and cultural authority. The younger you were when you started following them, the more profound their impact. We often forget that most first-generation fans were children and pre-teens, not teenagers.

BH: Professionals, such as yourself as a sociologist, generally write academic books, which are basically rather difficult to read for the layman. Writing in the style that the normal reader can associate with appeals to a wider audience. Did you ever consider going along the academic route?

CL: I wanted the book to be accessible to fans of all ages and backgrounds. At the same time, I knew that documenting the fan experience, and drawing on social theory, would be a significant contribution to Beatles scholarship. As I discuss in the preface, I had the sense from a very young age that I was witnessing an extraordinary phenomenon and knew I would write about it someday. While pursuing my Masters and PhD, I studied sociology, child development, gender, media, and social change, all of which I draw on in the book. I think what makes Beatleness unique is the sociological approach itself, which zooms in on the details but then zooms out for a comprehensive analysis that shows how everything is connected. When publishers read the proposal, they often asked, "Is this an academic or a trade book?" My intent was that it be both, which is not how publishers typically think. That's another reason it took a while to get it out there. But fans of all ages appreciate the book and it's also being used as a text in college classes, so I guess I succeeded.

BH: What conclusions did you draw from the fact that fans could be so dedicated so long after their original experiences?

CL: What it comes down to, ultimately, is that first generation fans consider themselves extremely lucky, some say "blessed", that they grew up with The Beatles; that The Beatles opened their ears to music and opened their eyes to new ways of seeing the world. Many say they could not imagine how different their lives would have been without the joy The Beatles consistently and reliably brought during fans' formative years. The Beatles were a unique source of emotional, intellectual, aesthetic, and even spiritual nurturing. Many say The Beatles' impact on them was greater than that of family members. Fans' ongoing dedication and love for the music makes sense when understood in this way. To call it mere nostalgia doesn't begin to capture the singularity of it.