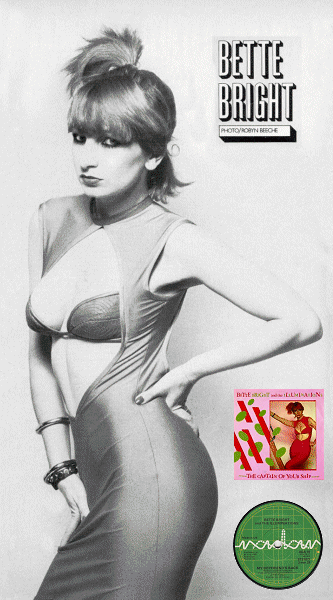 Deaf School was formed mainly by members of the Liverpool College of Art in November 1974 and the main band comprised Bette Bright, vocals; Enrico Cadillac, vocals; Eric Shark, vocals; Ian Ritchie, woodwind, vocals; Max Ripple, keyboards; Clive Langer, guitar; Steve 'Average' Lindsey, bass guitar and Tim Whittaker, drums.

There had been initial changes of personnel: Paul Pilnick (guitar, accordion, bass, banjo), who had been in bands such as The Big Three and Stealer's Wheel, was with the band until June 1976. Another guitarist was Roy Holder, who was sacked by the band. The original female singer was Sandy Bright, who left to marry Roy Holder, Mike Evans, former member of The Clayton Squares, was with them for a short time on sax and another female singer was Hazel Bartram.

The group built a formidable reputation on Merseyside in clubs such as Eric's and their combination of influences was an inspired, creative mixture of styles ranging from music hall to cabaret, an artistic explosion of ideas which ignited locally, but failed to inspire nationally due to the sudden and domineering influence of Punk, with their art rock music, inspired by artists ranging from Kurt Weill to Cole Porter, going against the grain of the Punk Rock hysteria. They were to leave behind them three albums recorded between 1976 and 1978. Derek Taylor, former Beatles associate, appreciated the uniqueness of the band and signed them to Warner, issuing the albums 'Second Honeymoon' in 1976, 'Don't Stop The World' in 1977 and 'English Boys/Working Girls' in 1978.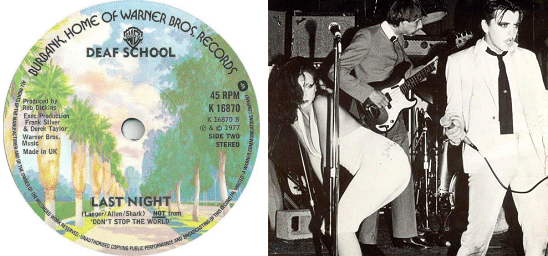 Enrico's real name was Steve Allen and he went on to form The Original Mirrors with Ian Broudie. The other members were Phil Spalding, bass; Jonathan Perkins, keyboards; Peter Kircher, drums. Their eponymous album 'The Original Mirrors' was issued in 1980 and their second 'Heart Twango & Raw Beat' the following year. The albums were unsuccessful and the group disbanded. Steve was to become a record executive while Broudie became producer for Echo & The Bunnymen and The Fall, then teamed up with Paul Simpson in Care in 1983 and in 1989 formed The Lighting Seeds.

Lindsey, along with Broudie, was in Big In Japan for a time and then formed The Secrets with Dave Hughes, keyboards; Budgie, drums and Ian Broudie, guitar. In 1980 they evolved into The Planets with Steve, Budgie, Chris Skornia, keyboards; Andy Duncan, drums, Tony Wimshirst, guitar. They issued an album 'Goon Hilly Down' (Rialto Tenor 102) in October 1979 and following some minor changes of personnel, issued a second album in October 1980, 'Spot' (Alto 102) and a single in September 1980, 'Don't Look Down' c/w 'I Want to Touch You' (TREB 116).


Shark abandoned a music career and became a shop owner in Liverpool, while Tim Whittaker became a session musician and Mike Ripple an art teacher at Goldsmiths College. Bette Bright was born Anne Murray in Whitstable, Kent and in 1975 was asked to became singer with Deaf School by Clive Langer. When Deaf School disbanded, Bette began her solo career backed by The Illuminations, who comprised Henry Priestman (ex-Yachts), Rusty Egan (ex-Visage) and Glen Matlock (ex-Sex Pistols).

They made their recording debut with the single 'My Boyfriend's Back' / 'Hold On I'm Coming' (Radar ADA 18) in September 1978, followed by 'The Captain Of Your Ship' / 'Those Greedy Eyes' (Radar ADA 21) in January 1979 and their third and final single 'Hello, I Am Your Heart' / 'All Girls Lie' (KOW 3) in April 1980, which reached No.50 in the British charts. She then reverted to her birth name of Anne Murray when she joined the Dutch outfit Gruppo Sportivo, who formed in The Hague in 1976, and she was also to appear in the Sex Pistols film 'The Great Rock 'n' Roll Swindle'.
The 1981 release 'Rhythm Breaks the Ice' (Korova Records) was her only solo album and she was backed by Clive Langer, guitar/sitar; Ian Broudie, guitar; James Eller, bass; Jo Allen and Martin Hughes, drums; Ben Barson, keyboards, under the name The Illuminations. The album was produced by Clive Langer and Alan Winstanley and it was via Langer, Winstanley and Barson that she became friendly with the group Madness.