This American singer was born Francesco Paolo LoVecchio, the eldest of eight children of Sicilian immigrant parents, in Chicago, Illinois, on 30th March 1913. He left Chicago and moved to California, taking a variety of jobs ranging from dancing instructor to shipping clerk. In 1932, together with dancing partner Ruthie Smith, he danced for 3,501 hours – the all-time marathon dance record - at Atlantic City's Million Dollar Pier.

It was Hoagy Carmichael who arranged for Laine to make a test record, which also turned out to be his first hit, 'That's My Desire', in 1947.
Although probably best remembered for his 'western' title songs and ballads, he was originally a rhythm and blues / jazz singer who also sang country, folk and gospel. He was to have a further seven entries in the U.S. chart, but a staggering two dozen in the U.K. chart, with three of his hits charting twice.
He also created a record when 'I Believe' remained at the top of the British charts for 18 weeks.

His hits include: 'High Noon', 'Girl In The Wood', 'I Believe', 'Where The Wind Blows', 'Hey Joe', 'Answer Me', 'Blowing Wild', 'Granada', 'The Kid's Last Fight', 'My Friend', 'There Must Be A Reason', 'Rain Rain Rain', 'In The Beginning', 'Cool Water', 'Strange Lady In Town', 'Humming Bird', 'Hawkeye', 'Sixteen Tons', 'Hell Hath No Fury', 'A Woman In Love', 'Moonlight Gambler', 'Love Is A Golden Ring', 'Rawhide' and 'Gunslinger' and Frankie is the recipient of 21 Gold Discs.

Laine was also noted for singing the theme songs for movies and television series such as 'Blowing Wild', 'Rawhide', '3.10 to Yuma', 'Man Without A Star', 'Gunfight At The O.K. Corral' and 'Champion The Wonder Horse'. 'High Noon' and 'Champion the Wonder Horse' were not the actual soundtracks used in the film and tv productions, these being performed by Tex Ritter and Mike Stewart respectively.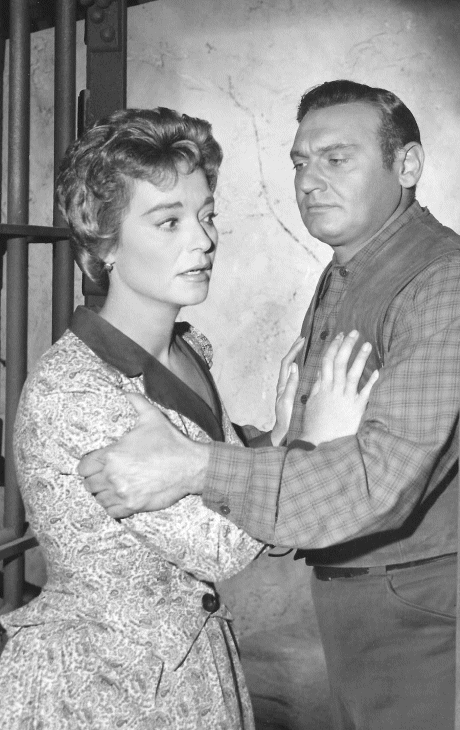 Nan Grey and Frankie Laine in a scene from the TV series 'Rawhide', 1960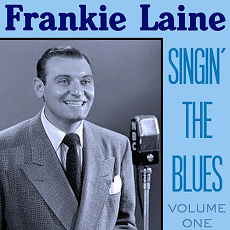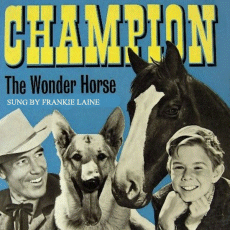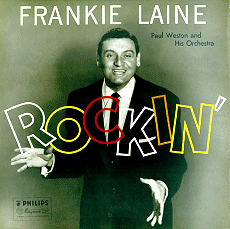 He married screen actress Nan Grey in 1950 and the two settled in an opulent ocean-front house in San Diego, close to where he kept his boats. In 1971 Frankie secured commercial fishing licences and started a fishing business and in 1993 published his autobiography 'That Lucky Old Sun'. Sadly, Nan passed away in July 1993. Frankie was to marry Marcia Ann Kline in June 1999. Since the 1970s, Laine had concentrated on religious material and remakes of his old hits, although in more familiar clippety-clop character was his 'Blazing Saddles' in its lyricist Mel Brooks' 1974 spoof western movie of the same name.

By the mid-1980s, he was in virtual semi-retirement following triple and quadruple bypass operations. From his San Diego home, Frankie Laine had set out occasionally for limited concert appearances such as an 'American Bandstand' anniversary concert. He also organised the San Diego Composers Festival. He received a Lifetime Achievement Award at the annual Songwriter's Hall of Fame awards ceremony in New York in June 1996. He also received a Living Legend Award in 2000 from the Women's International Centre.

His albums in the later years have included 'Wheels of Dreams' (1998), 'Old Man Jazz' (2002) and 'The Nashville Connection' (2003). He received a Lifetime Achievement Award at the Bravo Awards in San Diego on 15th November 2005 and carried out nine 20-minute performances per week at the Branson Follies from 1st September – 10th December 2006. The singer, whose nicknames included 'Mr. Rhythm', 'Old Leather Lungs' and 'Mr. Steel Tonsils' passed away from heart failure at the age of 93 on February 6th 2007. His ashes, along with those of his late wife Nan, were scattered on the Pacific Ocean.

Sixties City: 'Swamp Girl' by Laine contains the voice of a female spirit who attempts to lure the singer to his death, calling 'Come to the deep where your sleep is without a dream'. The voice is provided by Loolie Jean Norman, who would later go on to provide a similar vocal for the theme song of the television series 'Star Trek'. Frankie Laine played a significant role in the civil rights movements during the 1950s and 1960s. When black artist Nat King Cole's television show was unable to get a sponsor, Laine became the first white artist to appear as a guest and performed for no fee. He also joined several African American artists who gave a free concert for Martin Luther King's supporters during their Selma to Montgomery protest march on Washington D.C. In 1974 he performed the title song for Mel Brooks' 'Blazing Saddles'.