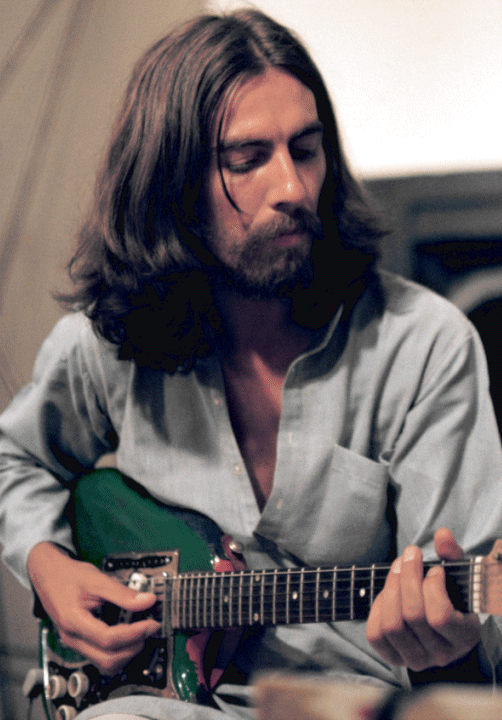 When 'My Sweet Lord' was originally released in January 1971 it topped both the British and American charts, making George the first ex-Beatle to top the singles chart on both sides of the Atlantic. In March of that year, Bright Tunes, a music publishing company who owned the rights to the Ronnie Mack number 'He's So Fine', took legal action against George, claiming that 'My Sweet Lord' plagiarised 'He's So Fine'. As a result, all royalties were frozen. George denied the plagiarism, claiming that his inspiration had been the Edwin Hawkins Singers' version of 'Oh Happy Day'. 'He's So Fine' had been a hit for The Chiffons in 1963. At the time of the Bright Tunes litigation against George, Allan Klein, a New York entrepreneur, was manager of The Beatles and looked after George's affairs.

The Beatles dismissed Klein and in 1973 he bought Bright Tunes Music Limited. This was after George had been found guilty of infringement, but before damages were determined. Klein received lower damages than he had anticipated because the court felt that Klein's act was a breach of duty to his former client. In New York in November 1990, Judge Richard Owen gave his decision. He said that Allen Klein's company ABKCO would own the song for the world, except for the USA, UK and Canada, where Harrison would own it. Harrison would pay Klein $270,020. Discussing the case, George said that it had been a nightmarish week in court and that it had all hinged on two parts of the song, which they had called 'Motif A' and 'Motif B'. George commented, "'Motif A' is the three notes under 'My Sweet Lord' and 'Motif B' is the part 'really want to see you'. That in effect was the crux of the infringement as 'repetition' can't be allowed to constitute further infringement". He was to add, "The plaintiff had huge charts made up with the three notes 'A' and four or five notes 'B' drawn on them – and they talked about these for about three days to the point where I started to believe that maybe they did own those notes!".

George continued to maintain that he was inspired to write 'My Sweet Lord' by the version of 'Oh Happy Day' by the Edwin Hawkins singers, commenting, "I thought a lot whether to do 'My Sweet Lord' or not, because I would be committing myself publicly and I anticipated that a lot of people might get weird about it. Many people fear the words 'Lord' and 'God' – makes them angry for some reason". Although he thought he was putting his head on the chopping block, he went ahead and composed the number. Later, he was to say, "I wasn't consciously aware of the similarity between 'He's So Fine' and 'My Sweet Lord' when I wrote the song as it was more improvised and not so fixed, although when my version of the song came out and started to get a lot of airplay people started talking about it and it was then I thought 'Why didn't I realise?' It would have been very easy to change a note here or there, and not affect the feeling of the record". George's final comment on the number was, "I don't feel guilty or bad about it, in fact it saved many a heroin addict's lives. I know the motive behind writing the song in the first place, and its effect far exceeded the legal hassle".

The case did have some effect on his song writing and in 1976 he voiced his worries that he had become paranoid over the possibility of legal threats regarding his compositions. He was concerned that someone might come forward and say that his songs were stolen. "There are so many songs that are similar to some degree", he said. "I started to get really worried about writing songs after I testified in court earlier this year. I'd pick up a guitar and say, 'Well, I can't use those chords, those chords have already been used. And I can't use those words because I've heard those words before. Before you know, it becomes a problem and you start to get really paranoid about it. In the end I thought, 'Oh, I'm not going to get hung up about this'".

The first time John, Paul and George recorded together was as The Quarry Men in 1958. They recorded two numbers, Buddy Holly's 'That'll Be the Day' and a song called 'In Spite Of All The Danger'. The latter was an original composition by Paul and George, so The Beatles first ever song writing partnership was Lennon & Harrison and not Lennon & McCartney! When they recorded their first professional disc backing Tony Sheridan in Hamburg in 1961, the only original number written by a member of The Beatles that they recorded was 'Cry for A Shadow' by George Harrison, although it was credited to George and John. I devoted the entire front cover to this Beatles recording session in the second issue of my newspaper Mersey Beat in July 1961, which led to Brian Epstein discovering them.

During the Beatles' rise to fame I'd still continue to see them on a social basis at various Liverpool clubs and I began to query George as to why his songs weren't appearing on Beatles records. He told me that he hadn't written any new songs. It seemed that there was a lot of power play between John and Paul about getting their own compositions on record (they wrote a lot of numbers individually despite the Lennon & McCartney credit), and George didn't have much confidence in his own work. He told me, "Trouble is, I can't write lyrics. If I could write lyrics as easily as I could write melodies, I would be turning them out like John and Paul".

I began badgering him about writing songs. I put it to him that the very first mention ever in print about a Beatles number was about a song he had written. I persevered for months, insisting he should try his hand at song writing again. Then I forgot all about it until I was with The Beatles at the ABC in Blackpool in July 1964. George came up to me and thanked me. I asked him what for. He said that he'd been coming out to a Liverpool club one night and realised he'd probably bump into me and I'd be harassing him about writing a song again, so he began writing a number called 'Don't Bother Me'.
He thanked me again and said he'd already received £7,000 in royalties. So, the Beatles' first-ever song writing partnership was McCartney/Harrison, the first original number they ever recorded was co-written by George; the only original number they recorded at their first professional recording was penned by George; George was the composer of the very first original Beatles single to be released ('Cry For A Shadow', issued in Germany) and he was the first Beatle to have a song writing credit acknowledged in a newspaper!