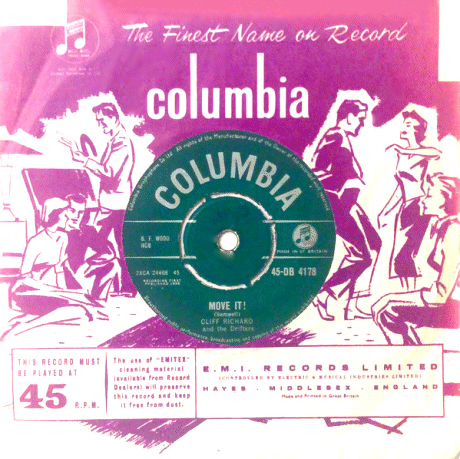 'Move It', by Cliff Richard was issued on Columbia DB 4484, written by Ian 'Sammy' Samwell and produced by Norrie Paramor. "I think the first English record that was anywhere near anything was 'Move It' by Cliff Richard, and before that there'd been nothing." - John Lennon. 'Move It' was one of the first great British rock and roll records and it has been chosen by the Rock and Roll Hall of Fame as one of the "500 Records That Shaped Rock and Roll". Cliff Richard formed his first group The Quintones, a vocal outfit, while still attending Cheshunt Secondary Modern School. On leaving school he joined The Dick Teague Skiffle Group and then formed his own band with drummer Terry Smart and guitarist Norman Mitham called Harry Webb & The Drifters. John Foster spotted them in a Hoddesdon pub and offered to be their manager. Foster talked his parents into advancing him £10 to have a demonstration record made and the group went to HMV's record store in Oxford Street and cut the numbers 'Breathless' and 'Lawdy Miss Clawdy'.

In July 1958 Foster organised an appearance for them to appear in a talent contest at the Gaumont, Shepherd's Bush, where he arranged for an agent, George Ganjou to see them. Ganjou then took their demo disc to record producer Norrie Paramour at EMI's Columbia label and he agreed to audition them. By that time they had been joined by Ian 'Sammy' Samwell on lead guitar and changed their name to Cliff Richard and The Drifters (the name Richard was in dedication to Little Richard). 'Sammy' had approached them even though he was in the RAF and stationed at Hendon. However, because his mother was ill he was allowed to live at home on compassionate grounds. Also, his stint as a national serviceman was coming to an end. On August 9th, 1958 they signed with EMI and Cliff left his job at the Atlas Lamps factory in Enfield.

The group began a four-week residency at the Butlin's camp in Clacton-on Sea. Their guitarist Norman Mitham quit the group and Samwell took over on bass. While at Butlin's Ken Pavey, a professional guitarist who worked at the camp, stood in on guitar. Their debut single 'Schoolgirl Crush' c/w 'Move It' was issued on August 29th. 'Schoolboy Crush' was a cover of a Bobby Helms release. Samwell penned the b-side in July 1958. He had his guitar and was travelling to Cliff's house for rehearsals. Sitting on the upper deck of a Green Line bus travelling between Colney and Cheshunt, he worked out the guitar intro, thinking, "This is where the song should start". He wrote down the words as they came on the only piece of paper that came to hand, an envelope for his guitar strings. He only had time to finish off one verse, so Cliff sang it twice on the record!

Part of the lyric was based on the reports in newspapers that rock and roll was a short-lived phase and would soon die out, which explains the line 'They say it's going to die'. At the recording session Paramor insisted on getting two session players Ernie Shear and bassist Frank Clark to ensure a stronger sound. The studio session took place on July 24th in Studio 2 at Abbey Road. Norrie Paramor produced it and the engineer was Malcolm Addey. The session took place between 7pm and 10.30pm and the musicians were: Cliff Richard lead vocal; Ernie Shear and Ian Samwell, guitar; Frank Clarke, bass; Terry Smart, drums; The Mike Sammes singers, backing vocals. A few days later the group were on a package tour with The Kalin Twins.

Since Mitham had left they needed a new guitarist and Foster set off to the 2 Is coffee bar in Old Compton Street, London, looking for a guitarist called Tony Sheridan. He couldn't find Sheridan but met up with Hank Marvin and offered him the job. Marvin would only agree to join the group on tour if his partner Bruce Welch was taken on as rhythm guitarist. Music publisher Franklyn Boyd had brought the 'Schoolboy Crush' number to Paramor and was plugging the record. He played it to Jack Good, the influential producer of the television show 'Oh Boy'. Good said the better number was 'Move It' and booked the group on the show on the strength of it. On September 13th the group made their debut on the show and Cliff performed 'Move It', although Good insisted that Cliff sing without his guitar and minus his sideburns! Other disc jockeys recognised the potential of 'Move It' and EMI decided to make it the A side.