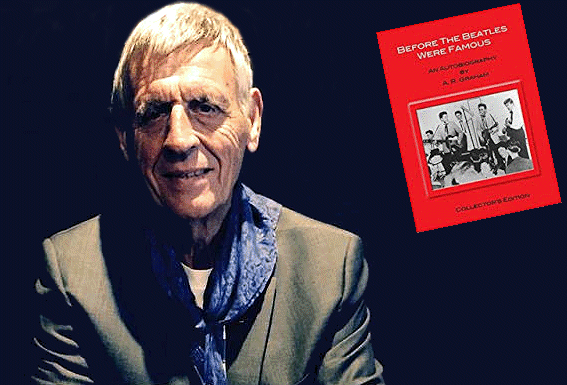 If you'd like to experience the Liverpool landscape in post-war years, then Alan's autobiography should fit the bill, presenting tales of the people and places with stories and anecdotes recreating the atmosphere of the time. In his vibrant memories of growing up in Liverpool he recalls: "Inside Lewis's Department Store, the Father Christmas in the grotto scared me. He smelled of stale ale and his eyes were bloodshot. I recoiled then squirmed away when my mother tried to place me on his knee. A real dwarf dressed as an elf glared at me, frightening me even more. I held on to my mother like a tree monkey".

It's true when they say that the past is another country. Even post-war Britain was a foreign place compared to contemporary times. As Alan continued his Liverpool Christmas memories he writes: "A heavy freezing rain fell on the streets of Liverpool a few days before December 25th, 1956. I listened as my mother told a neighbour that she and my father could not afford a Christmas tree this year and that the gifts for the children would be limited to small boxes of fruit and nuts".

He then recounts how the family had their tree, which apparently fell out of the sky! Despite poverty, Liverpool people remained generous. In 1956 refugees from Hungary arrived in England and two double-decker buses stopped at St Bernard's school. Alan remembers
"They were filled with men, women and children – Hungarian exiles looking more impoverished then we did". He further recalled, "As the big lumbering buses came to a halt at the corner, a young child in pajamas sprinted from a nearby house carrying a baby doll dressed in red. Running up to the side of the bus, she handed the doll to a refugee child of about the same age before disappearing into the thick gray fog. The child grabbed the doll and held it close. Her eyes were wide with excitement as the buses rolled away vanishing into the same cold, pea-soup thick fog".

Q: The book is sub-titled 'An Autobiography' because Anna and others encouraged you to put down your memories as they believed you had a story to tell? What parts of the story did you most enjoy writing – and why?

"I actually simply wrote the way I talked so it was always like telling stories as I lived them, and the most enjoyable part was when people would laugh out loud and ask me to 'tell another one'. I have told those stories for many years and it was always Anna who urged me to write them down, but I never did until many years later after Jim died that I put pen to paper, even now there are so many more memories I have not yet written about".

Anna of course was the American girl he met and married in London and features in the second part of the book, while the 'Jim' referred to turned out to be Jim Morrison.