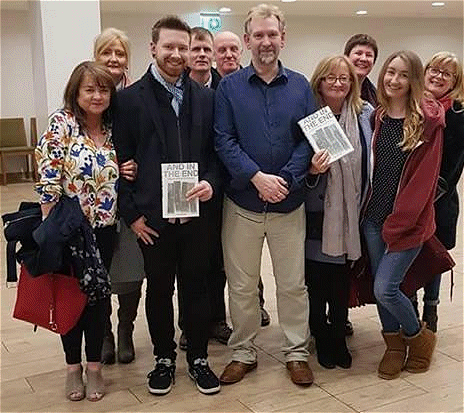 Bill: Itís a sensible structure, having each chapter covering a specific month. Did any one month prove to be more difficult to research than others?

Ken: Thank you. May and June were the toughest simply because all four of them kind of went off the grid. So, at first, it looked like nothing of significance was happening. But it's at moments like that when you turn into a rock 'n' roll detective and it's amazing what you come up with by combing through old newspapers and the Beatles magazine. And slowly I was able to build up a reasonably comprehensive picture of what they did. Truth be told, they were always busy doing something. And, of course, the activities of a certain Allen Klein ensured they were always in the new for some purpose or another. And when I read May now, it lays the groundwork for so many pivotal moments that followed further on down the road.

Bill: There is controversy over every aspect of the Beatles' career. People tend to blame Yoko for the break-up and also Allen Klein, but that is too simplistic and doesnít really answer the varied complications which led to the end of the group. Who are your particular heroes and villains, if any?

Ken: It was a very fractious period in all of their lives. They had been mushroom-grown inside a Beatle hothouse for so long. Inevitably, tensions would emerge. Especially in a band. Yoko's presence undoubtedly was an issue. There is no point in trying to sugar coat that. Ironically, George seemed more upset than Paul, who tried hard to be the diplomat in these kind of areas. But the appearance of Klein was a Beatle game-changer. Yoko was personal but Klein was business and fractured that musketeer mantra of all for one and one for all. He also pitched John and Paul in rival corners and forced them to come out swinging at each other over the future direction of Apple especially. He was like a master of whisperers from Game of Thrones, poisoning Lennon against McCartney, dripping toxins into his ear. Also, he was the exact opposite in personality from Brian Epstein. Gentile manners were traded for New York profanities and boasts that couldn't be delivered. In the end, he is the true villain of the Beatles story. And, over time, Paul's instincts proved to be true. Apple turned rotten on Kleinís watch while Lennon and McCartney also lost ownership of Northern Songs, triggering a corporate game of pass the parcel that would continue to echo down through the decades. I don't blame Yoko for splitting up the band, though obviously plenty do. Remember, they were all still in their twenties by 1969. It's only natural that that would eventually find different paths in life. You are right on the money...it's way too simplistic to just point the finger at Yoko. So many other factors. Perhaps they really were a product of their times.

Bill: Was it due to Yoko that Johnís expressed eccentric behaviour such as having a double-bed brought into the studio for Yoko, with a mic placed about her so she could make comments about the recordings?

Ken: That is a hard one to answer simply because I think you would need to have been there to give a proper observation. From the outside, it certainly looks mad. She had the bed brought into Abbey Road after the Lennonsí car accident in Scotland. No wonder jaws dropped. And, of course, her comments about the songs were not welcomed by Paul, George and Ringo. But John was clearly baiting them, hoping for an outburst so he could say: I'm gone. Paul admitted as much during conversations recorded in January. "What could we do...she was John's bird?".