Bill: Most people in other parts of the world think of Liverpool in terms of The Beatles and Liverpool FC, but the city has more to tell than that and your 'The Talk of Liverpool' has those stories and is a book which lives and breathes Liverpool. You spent 33 years with the Liverpool Echo, becoming Chief Feature Writer, interviewing and witnessing numerous major events and tragedies from the James Bulger murder to the horrendous deaths at Hillsborough to the disappearance of Madeleine McCann.

Of particular interest to music fans are the numerous tales of Mersey groups from the Seventies onwards such as Echo and The Bunnymen, The Teardrop Explodes and Half Man Half Biscuit - and other bands, like The Fall, from Manchester. Which of them did you find most interesting to interview?

Paddy: It might sound like a cop out answer, but they were ALL interesting - in different ways. As a passionate music fan, it was a privilege to be able to meet up with and interview so many of the people whose singles and albums are in my record collection. The band I have seen live more than any other - about 60 times, I think - is Half Man Half Biscuit. It was obviously a great thrill for me when I first met and interviewed the band's singer, guitarist, lyricist and main songwriter, Nigel Blackwell (co-founder Neil Crossley also writes many of the group's songs).

Nigel, unlike so many front men, has very little interest in self-promotion - as people will gather when they read my interviews with him in the book! I think he's a genius, but he certainly couldn't be called big-headed or arrogant. He was just as happy - happier, actually - if I wrote a column about a new HMHB album in my own words, rather than ask him about it in a traditional interview. Our interviewer/interviewee relationship developed into a friendship over the years, and we now meet up regularly for a drink, when we will often talk about anything and everything but HMHB. I was also delighted to be able to engineer meetings (often in pubs - the best place to interview people in my opinion) with so many people whose records I had enjoyed for years. These included Pete Wylie and Ian McCulloch, who were both great company - and provided so many great quotes.

They were born to be front men and born to be interviewed - as was Julian Cope, although I was only able to interview Julian on the phone, as he lives in Wiltshire (it was still an extremely enjoyable and entertaining chat, though). Frank Sidebottom was also interesting - not least because, after turning up to interview him before one of his gigs (at the old Hardman House Hotel on Hardman Street, Liverpool - a great, lost venue), I was told by someone that he wouldn't be able to speak to me as he had a sore throat (didn't stop him performing that night, however!) Knowing I had space to fill in the next day's Echo, I had to think quickly - and was able to persuade him, via an intermediary, to write down his answers to my hastily scribbled questions which I passed backstage. So, I never met him, face to papier mache face, but I got an interview!

There were so many of my heroes I got to meet (the music chapter is the second longest chapter in the book, after the one on Hillsborough - while the chapter on my interviews with relatives and friends of The Beatles is a separate chapter, and also a lengthy one). These heroes also included Mark E. Smith of The Fall, Pete Shelley of Buzzcocks, Vic Godard of Subway Sect and Henry Priestman of Yachts, It's Immaterial and The Christians.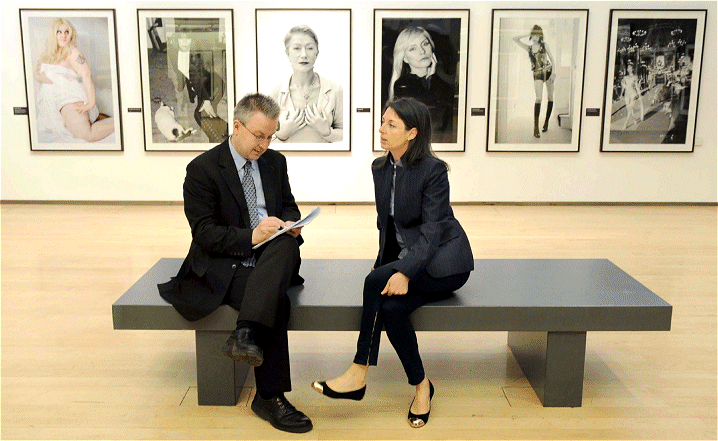 Paddy Shennan interviewing photographer Mary McCartney - Photograph courtesy of Reach plc / Mirror Books