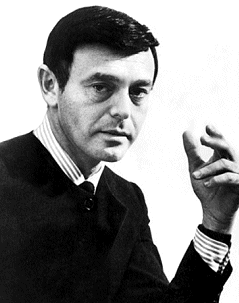 Fashion designer Rudi Gernreich was born in Vienna on 8 August 1922, the son of a hosiery manufacturer. Rudi was 16 when his family fled from Austria and settled in Los Angeles where he studied at Los Angeles City College for three years before entering Los Angeles Art Centre School for one year.

For six years he was a member of a modern-dance troupe before becoming a dress designer in 1948. He entered a partnership with manufacturer Walter Bass in 1951 to supply clothes to JAX, the Los Angeles boutique and in the late Fifties formed G. R. Designs Limited, which he changed to Rudi Gernreich Inc in 1964.

He was noted for his designs of sportswear, cape coats and swimsuits without inner foundations, but he became internationally famous in 1964 when he launched the topless bathing suit, or 'monokini', a costume which reached from the thigh to the high waist, with two thin straps crossed between the breasts and over the back. When he designed the outfit, Gernreich hadn't considered his topless suit as anything beyond a gimmick – a pair of knitted trunks, with two thin straps which left the breasts fully exposed.

The American press began to publish pictures of the suit – with the models discreetly crossing their arms – and the New York Times called it: "The most radical development in swimsuit design since the bikini."

A total of 3,000 copies of the suit were sold throughout America and it generated headlines throughout the world, was responsible for creating the topless dance craze in American clubs and led to various designs which exposed the breasts (such as topless dresses), the no-bra bra, body stockings and even bottomless costumes!

Gernreich continued to specialise in designing revealing body clothes, which included see-through blouses, mini-skirts and transparent underclothes. His 'no-bra bra' consisted of moulded nylon cups attached to shoulder straps and he also designed the 'no-sides bra', the 'no-front bra' and the 'no-back bra.' 1964 was also the year in which the corset manufacturer Warners commissioned him to design a flash-coloured bodystocking in stretch nylon. Gernreich died in 1985.


---