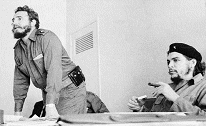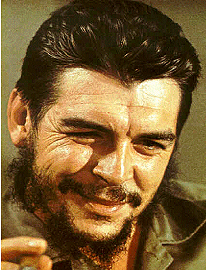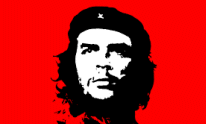 Ernesto Guevara de la Serna was born in Rosario, Argentina on 14th June 1928. He suffered from asthma, but despite debilitating attacks, took up medical studies and qualified as a doctor in 1953. At the age of 18, because of his asthma, he'd been declared unfit for military service in Argentina.

He then began to tour Latin America and, despite being a favoured child in an upper class family, identified with the poor and undernourished people he encountered on his travels.
He was an idealist with strength of character which proved charismatic and his quick mind developed a firm grasp of guerrilla warfare.

After visiting a leper colony he travelled to Guatemala, Mexico and Peru. He was involved in a revolution in Guatemala which was foiled by the CIA and also participated in another failed uprising in Mexico. It was while he was in Guatemala that he was given the nickname Che, which was said to be an affectionate term for 'you' in Argentina.

He joined Fidel Castro in 1955 and was to become Castro's advisor and also trained his guerrillas. He became a folk hero after the rebels won control of the Sierra Maestra in Cuba and accompanied Castro when the revolutionary army entered Havana on 1st January 1959 and deposed the American-supported dictator Fulgencio Batista.

Che was the third most powerful figure of the Cuban revolution after Fidel Castro and his brother Raul and was given Cuban nationality. In 1961 he was appointed director of the National Bank and also Ministry of Industry. He firmly believed that social revolution was the only way for an underdeveloped nation to change its circumstances and he implemented mass nationalisation throughout Cuba.

In December 1964 he made a speech to the General Assembly of the United Nations during which he condemned America for its intrusion in Vietnam and also criticised Russia and China for their conflicting ideologies, which he said had split the anti-Imperialists. Che wrote two books 'Reminiscences of the Cuban Revolutionary War' and 'Guerrilla Warfare', which proved inspirational to revolutionaries in Brazil, Nicaragua, Vietnam and the Congo.

This handsome, courageous figure who had decided to dedicate his life to helping third world people free themselves from oppression and hunger, became a major influence on student campuses in America and Europe. His exploits became legendary, his face was featured on best-selling posters – and there was even a fashionable London boutique named after him.

In 1965, soon after writing 'Man And Socialism In Cuba', he disappeared only to resurface in the Congo. Che became disillusioned with the situation in Africa, mainly due to the attitude of the very people he was trying to help. He left the Congo and turned up in Bolivia but he was betrayed by Bolivian peasants and captured after being shot and wounded. On 9th October 1967, at the age of 30, he was killed by the authorities.

One of the soldiers responsible for his capture, confessed to killing Che, saying that he went into the room where Guevara was lying badly wounded and fired into his left nipple. He admitted doing it under instruction and was told that, in order to destroy the myth of an invincible guerrilla commander, Che must not be exhibited as a prisoner.

The soldier was promoted to sergeant major and rewarded financially for committing the deed. An autopsy revealed that Che had a bullet wound in the left clavicular region, another in the right clavicular region, one more in the region of his right rib cage, two bullet wounds in the region of his left rib cage, a bullet wound in the left pectoral region, another in the left thigh, one in the right leg and a further bullet wound in the right forearm.