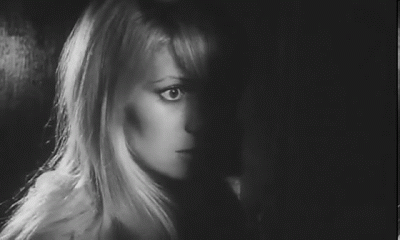 'Repulsion' was described by one critic as 'the most terrifying film ever made,' and it remains, along with 'Psycho' and 'Les Diaboliques', one of the classic films of psychological suspense. Unlike 'Psycho', there is no neat explanation at the end. Rather, we are left with an enigmatic 'clue' to the horrific terror and repulsion which sex holds for the pretty blonde Belgian girl Carol Ledoux.

Throughout the film the camera passes, but sometimes pauses, on a family photograph on the sideboard. When the landlord is waiting in the flat he idly picks up the photograph and asks where it was taken. "Brussels," she says. The very last shot in the film is of the photograph. The camera seems to enter into it, it fills the screen. There is the contented mother, the smiling elder sister and the complacent figure of the father. Behind the mother's chair stands a little girl with a terrified expression on her face, her eyes locked onto the figure of the man, her father. The camera moves forward into the child's inscrutable expression until it advances into the pupil of the eye and the screen turns black. The ending mirrors the credit sequence which opens with a staring eye. The camera pans back to reveal the face of a beautiful young girl.

Carol (Catherine Deneuve) and her sister Helen (Yvonne Furneaux) live in a bed-sit in South Kensington. Her sexual repression gradually unfolds. As she walks home from the beauty salon she passes a group of workmen, one sweat-stained man in a vest aims some remarks at her. The girl is withdrawn, introverted. She is even aloof towards her boyfriend, the nice-looking, well-mannered Colin (John Fraser), who catches up to her in the street and arranges a date. She arrives at the flat noticing the happy laughter of young nuns in the convent next door. Helen is having an affair with Michael (Ian Hendry), a married man. Carol resents him, or his maleness and is disturbed to find him shaving in the bathroom.

Helen and Michael unexpectedly go out to dinner leaving Carol alone in the flat. The rabbit they were to have for dinner is left uncooked. As the film progresses it begins to rot. Although Carol seems withdrawn, she is repelled, yet fascinated, by men. She is also attracted and repelled by the sound of Helen and Michael's lovemaking as she lies in bed at night.