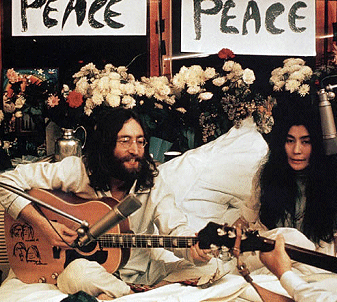 When John Lennon and Yoko Ono decided to launch their 'Peace Campaign', in an effort to make the world more conscious of the need to end all wars, they devised the gimmick of 'Bed-Ins' to attract attention. Their first Bed-In took place over a period of seven days at the Hilton Hotel, Amsterdam, from 25th March, 1969, a few days after the couple's marriage in Gibraltar. They moved into Room 902 of the hotel and invited the world's press to their bedside.

John and Yoko, clad in white, sat in their bed and delivered their message of peace to the hordes of journalists who were attracted to what they thought would be a sensational story – as John commented, "These guys were sweating to get in first because they thought we were going to be making love in bed – naked, bed, John and Yoko sex!" Instead of finding the couple engaged in a public display of sex on their honeymoon, the press were treated to a lecture on peace. "What we're really doing," said John, "is sending out a message to the world, mainly to the youth, to anybody who is interested in protesting for peace or protesting any form of violence. Give peace a chance."

Feeling that the 'happening' had achieved its objective of attracting the media, they decided to have their next Bed-Ins in America – in New York and Washington, but John was unable to obtain a visa. In May they planned to have a Bed-In aboard the QE2 on its voyage to America. Ringo Starr and his wife Maureen were aboard, along with Peter Sellers. John and Yoko intended to join them, but once again, John was unable to obtain an American visa.

They both decided to hold their next event in the Bahamas and flew to the Caribbean island. However, they found the place unsuitable and made up their minds to hold their next Bed-In in Canada. On 26th May they arrived in Montreal and booked into Room 1742 of the Queen Elizabeth Hotel, where they staged an eight-day Bed-In. From their suite they were able to conduct interviews by phone with over 350 American radio stations, in addition to meeting an average of 150 representatives of the media per day at their bedside.

On 1st June, the seventh day of their Bed-In, John and Yoko were surrounded by a host of friends who they invited to join in on the chorus of 'Give Peace A Chance,' which they recorded in the suite, with John still sitting in bed, playing an acoustic guitar. John had written the peace anthem during the Bed-In and it was recorded on a portable four-track recorder.