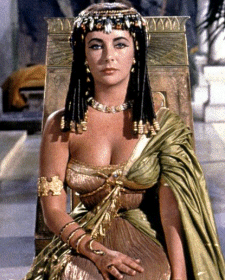 In fact, the affair saved the movie. With such publicity it brought the public into the cinemas in droves – although it only eventually broke even after it was sold to TV. The fact that the money was coming back into the box office caused Zanuck to comment: "I think the Taylor-Burton association is quite constructive for our organisation."

Liz and Burton hated the movie. Mankiewicz had originally conceived the movie in two three-hour sections. The film took a year to edit and during the editing stages Mankiewicz was fired and two full hours were chopped off the movie. After the critics savaged it, a further 30 minutes was cut before general release. Burton was filming when it was previewed, but when Liz attended a special showing in London, in June 1963, she said that immediately after the screening she just made the Dorchester in time to vomit. It seemed to both of them that everything they had done which had been any good had been cut out of the final print.

In his book 'Rich: The Life of Richard Burton,' Melvyn Bragg writes, "The film finally had three and a half hours chopped out of it – most of it containing Burton's best scenes which are somewhere in a 20th Century Fox vault. According to Joe Mankeiwicz, the writer-director, they show Burton giving a remarkable performance. So what he came originally and finally to prove – that the great intellectual epic was possible – landed on the cutting room floor on the West Coast."

The reviews for the film were the worst reviews Elizabeth Taylor would ever experience in her film career, with comments such as: "Overweight, overbosomed, over-paid and undertalented, she set the acting profession back a decade" and "Miss Taylor is monotony in a slit skirt." In the meantime, other filmmakers were to see the potential fortune to be made out of the publicity which surrounded the couple.

Anton de Grunwald had been planning to film a script by Terence Rattigan called 'The VIPs', which was to star Sophia Loren and Burton. He quickly offered Liz a million dollars to take Loren's place opposite Richard and paid him half a million. Together with a percentage deal, the pair were to make $3m out of 'The VIPs' which opened the week after 'Cleopatra' and cleaned up. Strangely enough, the film was based on another scandalous film affair. Rattigan had written it after hearing of a moment in Vivien Leigh's life when she left Laurence Olivier and was attempting to run away with Peter Finch, only to find herself marooned for several hours at the airport because of fog. Liz and Burton were to divorce their respective spouses and were married in Monreal in 1964.