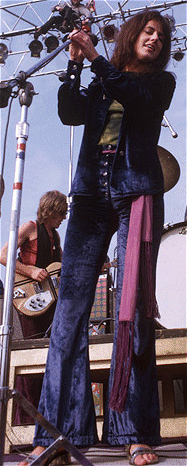 The event was intended to be California's answer to Woodstock, a free 'Thank You America' concert by The Rolling Stones following their recently successful American tour. The Grateful Dead and Jefferson Airplane were also due to appear and the date was set for 6th December 1969.

The concert was originally to take place at the Golden Gate Park but the city authorities, on hearing about the Rolling Stones playing (not originally advised to them) and fearing a large crowd, refused to grant the required permits(1). It was then due to be held at Sears Point raceway but there was a dispute over film rights and the site was finally changed to Altamont Speedway track only 40 hours before the concert which caused a great deal of confusion on the roads with fans who were unsure where it was to take place. 300,000 spectators watched as Santana began the first set. . . .

Hell's Angels had been hired to take care of security(2), in exchange for a few hundred dollars' worth of beer. Violence was in the air and the Angels knocked Jefferson Airplane's singer Marty Balin unconscious. The group intended to stop playing, but the Angels threatened to beat up guitarist Paul Kantner (3). The Angels then took exception to a fat youth who'd stripped naked and they beat him to the ground. The Grateful Dead decided not to play. The Rolling Stones arrived by helicopter and, as Mick Jagger emerged, he was hit by a youth who shouted, "I hate you. I'm gonna kill you."


The Stones began their performance, playing 'Jumping Jack Flash' and 'Sympathy For The Devil.' They were witnesses to a killing and saw the Angels turn on a black youth, 18 year-old Meredith Hunter, and club him with pool cues, fists and chains (4). He bled to death after being stabbed five times in the back and once under the ear.

The Angels claimed that he had brandished a gun, but no gun was ever found. At the trial, the Hells Angel defendant, Alan Passaro, was freed with a verdict of 'Justifiable Homicide'.

Three other people were to die at the festival and many others suffered serious injuries. Two died when a car ploughed through their campfire after the concert had finished and a man on an 'acid' trip slipped into a canal.

Sonny Barger, president of the Oakland Chapter of the Hell's Angels was to say, "I'm no peace-creep in any sense of the word." In the closing weeks of the Sixties, the 'Summer of Love' had turned into a winter of hate.

---

Sixties City Notes (from Terry Roth and other sources)