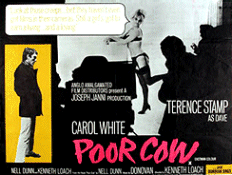 The film version was directed by Peter Collinson in 1968 and starred Suzy Kendall and Dennis Waterman, with the soundtrack by Manfred Mann. Although not a novel and containing short sketches of life in Battersea, it was similar to the voyage the affluent author had made by crossing from Chelsea into the working class community of Battersea and proved controversial because of the reference to back street abortions.

Her first novel 'Poor Cow', set in Fulham and Catford, was published in 1967. It also became a best seller and spawned a film version, directed by Ken Loach and starring Carol White and Terence Stamp, once again focussing on the fortunes of a 22 year old working class girl called Joy, with a young son Jonny.
Her husband is in jail, she has an affair with another man, who is also sent to jail and she says, "To think when I was a kid I planned to conquer the world and if anyone saw me now they'd say, 'She's had a rough night, poor cow."'

By the time they moved to Putney, the couple were quite a success as Sandford's play 'Cathy Come Home', starring Carol White, caused national interest with its depiction of the plight of homeless people.