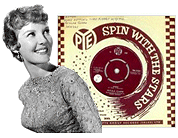 Petula made her film debut in 'Medal for the General' in 1944, since which she has appeared in 35 films and starred in two major movie musicals: 'Finian's Rainbow' with Fred Astaire and 'Goodbye, Mr Chips'. One of the U.K.'s most successful female singers, Petula was born in Epsom, Surrey on 15th November 1932 and began her stage career at the age of seven. As a child she enjoyed a career in radio, making her radio debut in October 1942. Her numerous radio and film appearances led to her being dubbed 'Britain's Shirley Temple'. with Peter O' Toole.

She made her recording debut with a cover version of the Teresa Brewer hit 'Music Music Music' and during the 1950s her own hits included: 'The Little Shoemaker', 'Majorca', 'Suddenly There's A Valley', 'With All My Heart', 'Alone' and 'Baby Lover'.

In 1958 Petula appeared at the Olympia, Paris and was signed to the French label Vogue where she became acquainted with the record company's press agent Claude Wolff, whom she married the following year. The couple had three children: Barbara Michelle, Katherine Natalie and Patrick.