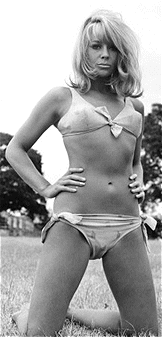 Actress Suzy Kendall was born Frieda Harrison in Belper, Derbyshire on 1st January 1944. After attending Belper Convent School she was next educated at Derby and District College of Art where she began studying design and painting. She became a fabric designer and also enjoyed a successful career as a photographic model (it was a model agency that changed her name to Suzy Kendall) before becoming involved in acting.

Suzy was surprised when she was offered film roles, due mainly for her looks rather than any particular acting ability, and initially appeared in small parts in 'The Liquidator', 'Thunderball' and 'Up Jumped a Swagman' in 1965. She next appeared in 'The Sandwich Man' and 'Circus of Fear' in 1966. Stronger roles appeared in 'The Penthouse' and 'To Sir, With Love' in 1967 and 'Up The Junction' and '30 Is A Dangerous Age, Cynthia' in 1968.

1967/8 was probably her most successful period with three of her best parts. In 'The Penthouse' she featured as Barbara Willason, an adulterous woman, terrorised in a penthouse when three thugs break in. In 'Up The Junction' she portrayed Polly, a Chelsea girl who decides to slum it up by moving to a working class area in Battersea and taking a job in a factory, and in the highly popular 'To Sir With love' she played Gillian, one of the teachers in an East End school.

In September 1968 she married comedian/actor Dudley Moore, her co-star in '30 Is A Dangerous Age, Cynthia' at Hampstead Register Office. Dudley persuaded her to appear in the Continental film 'Fraulein Doktor' in 1969 as a Mata Hari type character. The same year she featured in 'The Gamblers' and 'Colour Me Dead'. She next featured in 'Darker Than Amber' and 'Assault' (aka 'The Creepers' - in the US it was called 'In The Devil's Garden') prior to starring in the Italian suspense movie 'The Bird With The Crystal Plumage', directed by Dario Agento.

Around this time Suzy wanted a child and decided to cut down her acting parts as she wanted to concentrate on being a mother. However, Dudley's career was on the up and up and he didn't want children at the time, so the marriage eventually broke up in 1972, although they remained good friends, and Suzy married City coffee trader Sandy Harper shortly after and gave birth to a girl, Elodie. Suzy idolised her daughter and devoted herself to her care.
She only appeared in a few rather unforgettable films in the Seventies, before retiring from the screen. They included: Tales That Witness Madness', 'Fear Is The Key', 'Story of A Cloistered Nun', 'Carnal Violence' and 'Torso' in 1973, 'Craze' and 'Spasmo' in 1974, 'Bis Zur Bitteren Neigeo' in 1975 and 'Adventures of a Private Eye' in 1977.