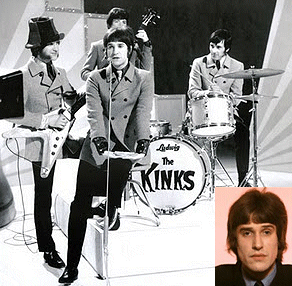 The story depicts a romance between a couple, Terry and Julie, who are observed crossing Waterloo Bridge by the narrator. This led people to believe that the lovers Terry and Julie referred to Terence Stamp and Julie Christie, the two British film stars who were living together at the time, but Ray denies this and said "No, Terry and Julie were real people. I couldn't write for stars". Later on he was also to add, "It was a fantasy about my sister going off with her boyfriend to a new world and they were going to emigrate and go to another country".

In an interview in Uncut magazine in January 2009, Ray was to elaborate on the creation of the song: "It came to me first as a statement about the death of Merseybeat, but I realised that Waterloo was a very significant place in my life. I was in St. Thomas' Hospital when I was really ill as a child, and I looked out on the river. I went to Waterloo every day to go to college as well. The song was also about being taken to the Festival of Britain with my mum and dad. I remember them taking me by the hand, looking at the big Skylon tower, and saying it symbolised the future. That, and then walking by the Thames with my first wife and all the other dreams that we had. Her in her brown suede coat that she wore, that was stolen. And also about my sisters, and about the world I wanted them to have.

The two characters in the song, Terry and Julie, are to do with the aspirations of my sisters' generation, who grew up during the Second World War and missed out on the '60s. Sometimes when you're writing and you're really on good form, you get into the frame of mind where you think, I can relate to any of these things. It's something I learned at art school - let all the ideas flow out. But if you listen to the words without the music, it's a different thing entirely. The lyrics could be better but they dovetail with the music perfectly".

There have been nine other recorded versions of the song, one by Ray with Damon Albarn, released on 2nd April 2002. The others were by Affairs of the Heart in 1983, Cathy Dennis in 1996, Barb Jungr in May 1999, the Fastbacks on 6th November 2001, David Bowie in 2003 (On February 23rd, 2003 David Bowie was joined on stage by Ray Davies and performed a duet of this song at Carnegie Hall in New York City for the Tibet House Benefit), Scrabbel on 26th July 2005, Peter Bruntnell in March 2006 and Def Leppard on 22nd May 2006.
When Barb Jungr recorded the number she commented, "Ray Davies is just a brilliant song writer. I have loved this song for such a long time, and sung it for years. Living near the river, it's a sunset I know". 'Waterloo Sunset' is also the title of a book by Ray published by Viking in September 1997.