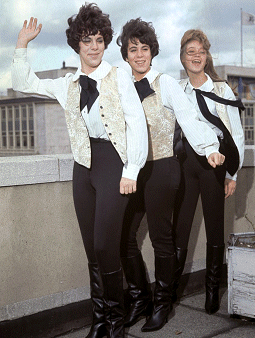 Recording engineer Joe Veneri actually brought his own motorcycle into the studio, took it into the echo chamber and recorded the sound as he revved up his engine. Initially the 'death disc' was banned in Britain in some quarters but eventually reached the number 11 position in January 1965.
It was reissued in Britain and reached number 3 in October 1972 and, on its second reissue, it reached number 7 in Britain in June, 1976.

Their third release was 'Give Him A Great Big Kiss', which reached number 18 in the American charts. 'Out In The Streets' only managed number 54 while 'Give Us Your Blessings' climbed to number 29.

'I Can Never Go Home Anymore' reached number 6, 'Long Live Love' reached number 33, 'She Cried' (a cover of Jay & The Americans 'He Cried') reached number 65 and 'Past, Present And Future' reached number 59.

In the meantime, the group were continually on the road and appeared regularly on the tours promoted by Murray the K. They appeared as guests on numerous TV shows, including 'Hullabaloo', 'Shindig' and 'Hollywood a Go Go.'

Betty had actually left the group early on and the other three continued touring. With their various marriages, Betty wed writer Jeremy Storch, Marge (who also left the group by 1966) became Mrs Marge Ganser Droste and Mary became Mary Weiss Stoke, running a furniture showroom with her husband.

Sadly, Mary Ann died in 1970 allegedly of a barbiturate overdose and Marge, who divorced from Bill Droste, passed away after a two year battle with breast cancer on 28th July 1996 at the Calvary Hospital, the Bronx, at the age of 48.

In 1977 the Shangri Las attempted to revive their record career with Sire Records but no product was issued. The next time they performed together was on 3rd June 1989 in New Jersey at a reunion show hosted by Cousin Brucie. In 2006 Mary Weiss (centre) signed with Norton Records to make a new album.