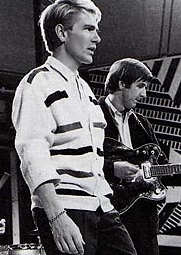 Born Terence Nelhams in Acton, West London, on 23rd June 1940, he began his musical career as singer and manager with a skiffle group called The Worried Men. They were given a residency at the famous Two 1's coffee bar in Soho where he was spotted by TV producer Jack Good who booked him to appear in the BBC TV pop show 'Six-Five Special', arranged for him to sign a recording contract with HMV and changed his name to Adam Faith.

Although his initial release '(Got A) Heartsick Feeling,' issued in 1958, failed to register, Good hired him to appear in the stage version of 'The Six Five Special', despite the fact that his second single that year 'High School Confidential', also flopped. For a time he worked as a film cutter at Elstree Studios and was then booked to appear on a new TV series 'Drumbeat.'

His initial three appearances were extended to the entire 22 shows in the series. By that time he'd been dropped by the HMV label and had experienced another flop with his record 'Ah, Poor Little Baby', issued on the Top Rank label. The residency on 'Drumbeat' led to a contract with Parlophone in 1959.Adam went on to top the UK chart with his debut Parlophone disc 'What Do You Want?' and followed with another chart-topper, 'Poor Me.'

Faith was one of the first British pop artists to have a book devoted to him – 'Poor Me' in 1962.

By 1966 Adam had spent 260 weeks in the chart with 24 hits over a seven-year period, including: 'Someone Else's Baby', 'When Johnny Comes Marching Home', 'How About That', 'Lonely Pup', 'This Is It', 'Easy Going Me', 'Don't You Know It', 'The Time Has Come', 'Lonesome', 'As You Like It', 'Don't That Beat All', 'Baby Take A Bow', 'What Now', 'Walkin' Tall', 'The First Time', 'If He Tells You', 'I Love Being In Love With You', 'Message To Martha', 'Stop Feeling Sorry For Yourself', 'Someone's Taken Maria Away' and 'Cheryl's Going Home'.